What is a fun way to use candy to teach science?
It's two days after Halloween, so you probably have a bunch of candy in your house right? Well, as always we have a way to make things educational, even candy. Kirstylee came up with this great idea to do an experiment with candy! We decided to test which candy was the strongest. It's a really simple activity but Little Bear had a lot of fun with it.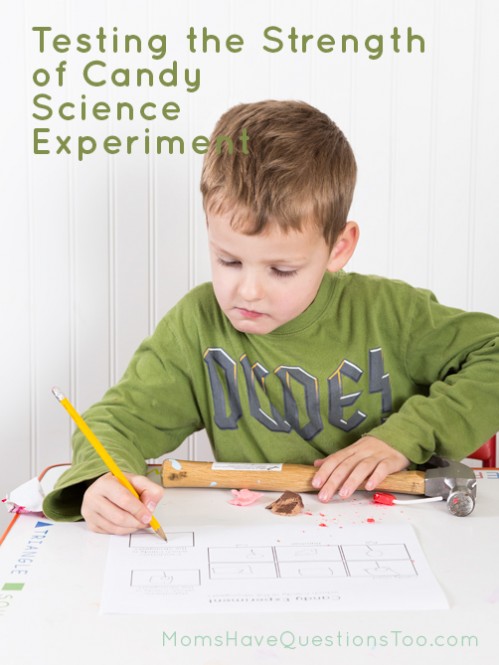 First, pick out 3 different kinds of candy. We used a sucker, 3 Musketeers and Laffy Taffy. We were able to use just one piece of each candy to complete the experiments, but it's not a bad idea to have an extra one or two just in case. Plus you can always eat it later, right? You can also print off this candy experiment worksheet for your child to fill out as they experiment. Have your child draw a picture of each candy in the three boxes on the worksheet. Then have them hypothesize which candy will be the strongest. You can explain that part of doing an experiment is forming a hypothesis before you carry out the experiment. Have them draw a picture of that candy in the hypothesis box.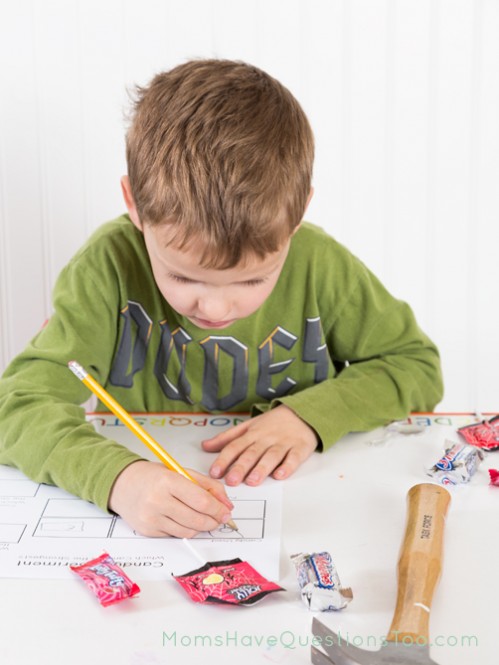 After they've guessed which candy they think is the strongest, start experimenting! Use a butter knife to try and cut each piece of candy. Have them draw a picture of the candy that withstood cutting the best in the "cut" box. We found that the 3 Musketeers was the easiest, the laffy taffy was a little harder, but Little Bear was surprised he wasn't able to cut the sucker. He drew a sucker as the strongest candy for cutting.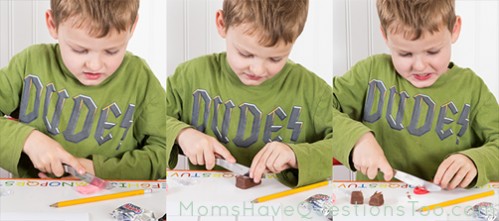 Next, have your child try pulling on the candy and then record which is the strongest again. Again, the sucker was the strongest candy and Little Bear wasn't able to pull it.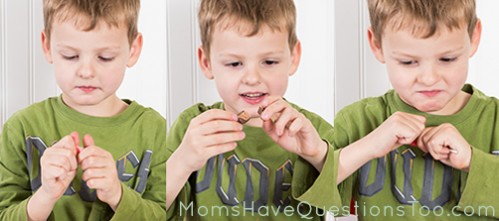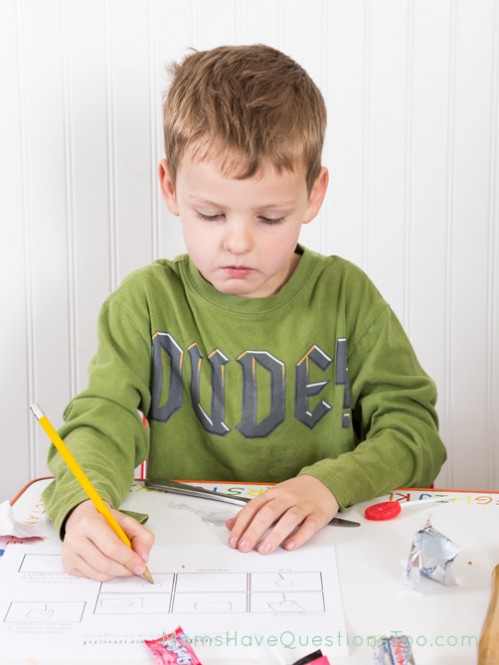 The last experiment is hammering. This was probably the most fun experiment and the messiest. The 3 Musketeers bar smashed very quickly under the hammer, as did the sucker (which completely shattered). The Laffy Taffy held up pretty well and didn't change shape very much. Little Bear recorded this one as the strongest.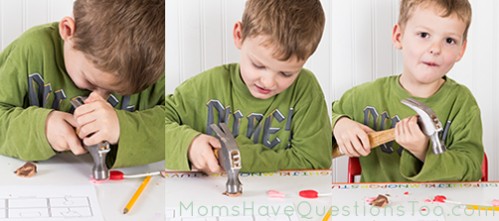 After you've done the 3 experiments have your child record which candy was the strongest overall. Hopefully you'll have one candy that was the strongest for two of the experiments. Little Bear loved this activity and it was a fun way to use up some Halloween candy as well!
If you've done any science experiments lately we'd love for you to link up to our blog hop. Don't forget to visit the other co-hosts as well for more science ideas!.
Rules for the Blog Hop:
Comment on or share (pin, tweet, share on facebook, etc.) at least 2 posts
Follow each of the hosts in some way (rss feed, pinterest, twitter, facebook, etc.)
Family friendly science activities or theme related activities only
Include button or a link to the linky party somewhere on your website