We are excited to share a guest post with you today! Sara is an active nanny as well as an active freelance writer. She is a frequent contributor of Nanny Pro.  Learn more about her here.
She has some great ideas today on how to keep kids entertained indoors on rainy days. Enjoy!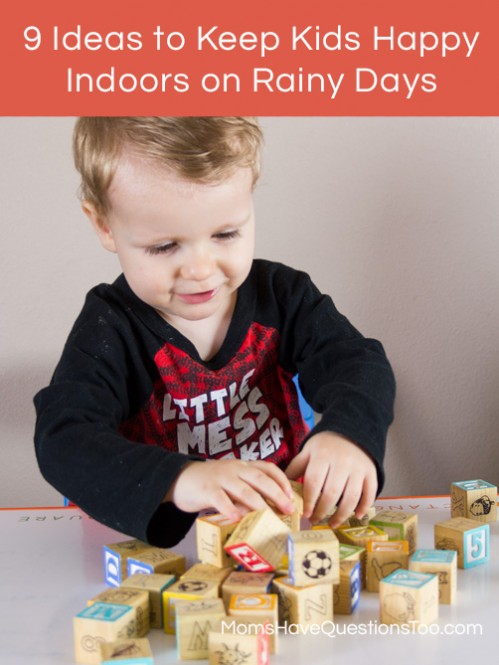 When you have a very active child rainy days can feel like a death sentence. You have this child on your hands that wants to run outside in the rain and make a huge mess, yet you have to keep them indoors and happy in confined quarters. How do you do it? Well, here are some fun activities for rainy days:
Can Bowling – When my brother was small he was always on the move. Rainy days kept us cooped up indoors and while I was happy to curl up with a good book, he was not so quietly entertained. That is when our mom came up with can bowling. Like the games you play at the fair, can bowling is mostly just seeing how much you can knock down. Kids love it because it is noisy and you can do it over and over again. All you need is some canned goods and a little floor space. Have the kids stack up the cans in a small pyramid and then roll another can at the pyramid to knock down as many as possible. Empty cans are easier and louder, but full cans work too.
Making Music – Being noisy is a sure way to keep kids entertained. There are many ways of making music around the house. Some ideas are: Plate tambourines, where you staple two paper plates together and put a few beans in between. Drum sets, where you let the kids beat on old pots and pans. Rain sticks, where you seal the ends of empty paper towel or toilet paper rolls and fill them with beans or rice. You can also make a tissue box guitar out of rubber bands and an empty tissue box or you can use a shoe box. An empty canister of oatmeal and a piece of thick paper attached to the top makes a great drum. Have kids make their own instruments and then create music like Jingle Bells and Twinkle Twinkle Little Star. You can even have a music guessing game where the others try to figure out which song they are playing.
Building Blocks – This basic indoor activity is something that most kids love. From Legos to waffle blocks to plain wooden blocks kids love to build and destroy. If you don't have blocks or your kids are bored with them you can make a giant set out of cardboard boxes, tissue boxes or shoe boxes. Kids can create their own forts and tear them down to rebuild over and over again. Another fun way to keep kids interested is to have a competition on who can build the sturdiest creation. Kids build a tower or house and then throw a ball at it to see how many times it takes to break it. Or you can have them drop their creation a few feet and watch it shatter.
Mess Free Finger Paints – The last thing you want to do in the rain is clean up paint. However the kiddoes love to paint. What do you do? Well, why not try a mess free painting session? Put a couple dollops of different colored paint in a gallon sized plastic bad and then seal the bag shut with tape. Tape the bag to the table and let the kids swirl it around to paint pictures, learn how colors interact and just have fun without the big clean up.
Sewing Buttons – I know that sewing may not sound like something your kid would like, but give it a shot. You might be surprised. If you have a bunch of buttons, some thick thread and a large needle you can let kids thread buttons and create necklaces, garlands, wreaths and more. Or if you have some scrap material around then the children can make art using buttons or just practice their fine motor skills sewing on button after button. Create rainbows, flowers and more from buttons and watch them learn as they play.
Cardboard Creations – A cardboard box is a wondrous thing to a child. Combine it with some washable markers or crayons and maybe a cut out door or window and you have a variety of fun ways to play. Help your child build a house out of a large cardboard boxby cutting in a door and windows. They can then draw in things like doorbells, flowers, a mailbox, an oven, a bead and more. A collection of smaller boxes can be tied together with yarn to create a train. Add a toy steering wheel and draw on some tires for a car. Get out the toy cars and create a whole tiny racetrack by cutting out a tunnel through the box and drawing some roads across it. Add some red and orange construction paper flames and make a space helmet out of a smaller box for a rocket ship. Add googly eyes and claws to empty tissue boxes for monster feet that kids can wear around. There are so many things that can be done with cardboard boxes!
Puppet Theater – For an imaginative child, a puppet show might be the way to go. All you need are an old pair of socks and some markers to make a fun sock puppet. Add some googly eyes and yarn hair for a fancier effect and then have kids act out their own shows. If you do not have old socks on hand, you can use small paper lunch bags. They are the perfect size and shape for a puppet and can easily be drawn on to make all sorts of fun people or creatures. Add construction paper ears for different animals or have kids create a whole outfit for their puppet out of paper. Puppet shows can take place from behind a curtain, from inside a large box, or even from behind the couch.
Monster Shoot – What kids doesn't like to shoot things in the house. Save your furniture and your sanity by having a monster shoot. Have kids draw and cut out monster shapes and then use a small triangle of paper to help them to stand up on the floor or table. Now it is time to make your shooters. Cut a small plastic cup in half. Tie the narrow end of a balloon into a knot and then cut off about an inch of the wide end of the balloon. Stretch the balloon to cover the cut end of the cup. Now you have a popper. Use paper balls, pompoms, mini marshmallows or whatever is small and light to shoot with. Have the kids see how many tries it takes to knock down all the monsters. You can also make another kind of shooter with crafting sticks and string. Have kids tie a string to one end of the stick and then bend the stick into a bow shape and tie the end of the string to the end of the stick, forming a bow. You can shoot cotton swabs at the monsters for your arrows. Kids can also decorate their bows for an authentic look.
Dress Up – Dress up is not just for girls. Every kid love to try on costumes and have fun. If you have some old clothes that are unusual, be it sparkly or manly, then have the kids give a fashion show. You can also make things like crowns, top hats, and Indian headdresses out of construction paper. Hula skirts are easy to make out of green construction paper with strips cut into it.
These are just a few of the ways that you can entertain active kids on rainy days. Indoors does not have to be boring. Just take a little time to think about some fun things your kid loves to do and you will pass the time in a snap!