What schedule should I use for tot school or school for my toddler?
At the beginning of July I started a new tot school schedule with Smiley Man and I wanted to give a little bit more explanation about our new schedule. We still do tot trays every day, but instead of having Smiley Man work on tot trays while I do preschool with Little Bear, I will be working on tot trays with Smiley Man. Hopefully he will be more interested in the trays if I am doing them with him and hopefully he'll learn more. :) Here is our new tot school schedule:
 Have 6 tot trays each week
Do 2 tot trays a day – some tot trays will be done twice, some will just be done once. Smiley Man chooses which trays to do each day.
Do one page from the Learning Notebook each day
Do name practice each day
Do music and nursery rhymes each day (work on one song and one nursery rhyme each week)
Have a new sensory bin about once a month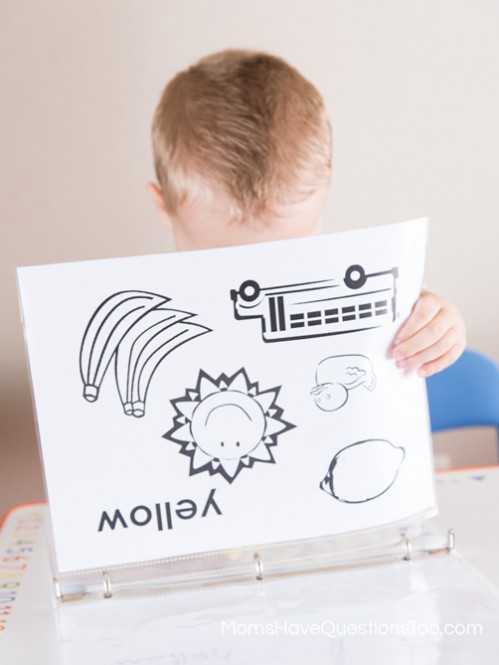 Since you are all probably familiar with my tot trays, I won't take the time to explain that in any detail. Feel free to check out our most recent set of trays (two week's worth) yellow and blue.
The Learning Notebook is new for us. It is simply a 3 ring binder with a few worksheet type pages in page protectors. Each week the Learning Notebook pages will change according to the week's theme. Here are the Learning Notebook pages for yellow week and for blue week. The first two pages are a name page and a rainbow page. I got the rainbow from this rainbow puzzle post. I colored all of the rainbow sections except for the color for that week.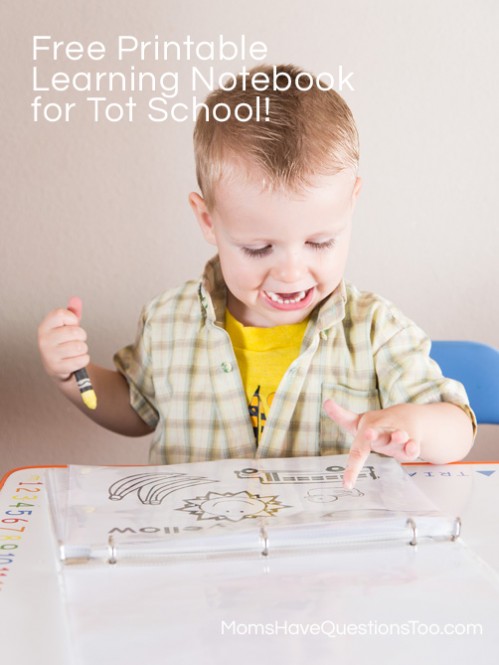 Our name practice is very simple. I made a name page just like I made these puffy paint letter cards, except I wrote Smiley Man's whole name instead of just one letter. For name practice, Smiley Man simply explores the puffy paint name with his finger.
For music and nursery rhymes, I mostly just sing the song a few times each day and then say the nursery rhyme a few times each day. We get a new song and nursery rhyme each week. I also make sure to add in a few of these fun toddler music activities at least once a week or so.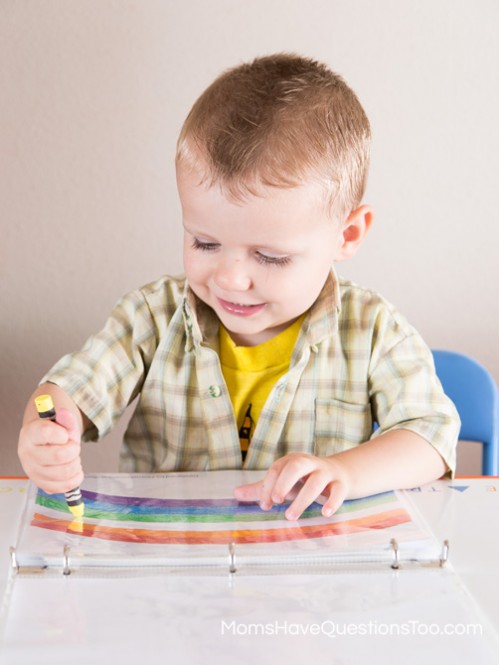 Well, that is it for our new schedule. So far I like the new tot school format much better because I get to actually do the tot trays with Smiley Man. He really likes the new Learning Notebook and his new puffy paint name card. I can't wait to see how our new tot school schedule works out, but so far it has been great.