What is a good way to store all of my kids' school papers that I want to keep?
Many moons ago (a.k.a about a year ago), I came across this amazing post about school paperwork storage. Okay, this post is seriously amazing! Go check it out. Anyway, my life was changed after reading that post and I knew I wanted to implement a system like that for my kids' school papers. Unfortunately, my brain was not ready to tackle the project a year ago and I figured I could just start the system when Little Bear started Kindergarten (rather than when he was starting preschool). So, I logged the idea away in my mind and figured I'd get to it the summer before Little Bear started Kindergarten.
Well, guess what people? It is now the summer before Little Bear starts Kindergarten! It's normal to cry a lot about this, right? Yeah, I always made fun of people who cried about their child going into Kindergarten, but once it was me … well, let's just say it's been a lot more emotional than I thought it would be. Now, I'm just getting distracted.
To the point, I wanted to make a beautiful school papers storage box for Little Bear and I wanted sweet little labels and everything to make it visually pleasing. I loved the free printables from I Heart Organizing, but they just didn't seem to match Little Bear's personality. So, I decided to make my own printables for the school papers. Maybe it's because of the Kindergarten emotion thing, but I got a little carried away and made a bunch of color options. If you are looking for some school papers storage labels, then check out the ones below.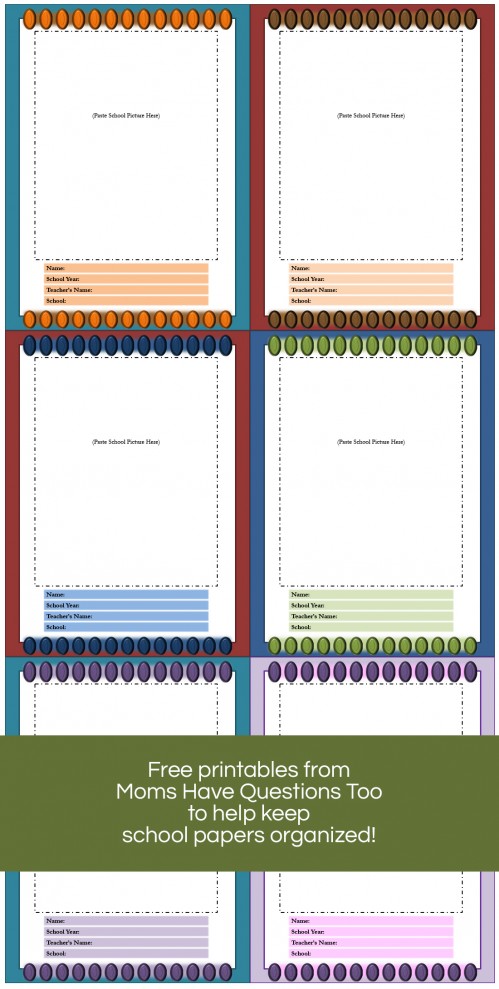 I let Little Bear decide the color option that he wanted (he chose red and blue) and I printed them off right away. It looks a lot more magenta and blue in the picture, but I promise it's really red and blue. I got a plastic file box (similar to this) way back when my hubby and I got married. I'm planning to replace it at some point with a bigger box, but since it was free, it will work just fine for now. (If you are looking for a good storage box, these ones are great, plus I also hear Costco has some cheap ones.). I also have 13 green hanging file folders (one for each year K-12) and 52 file folders (four for each year K-12).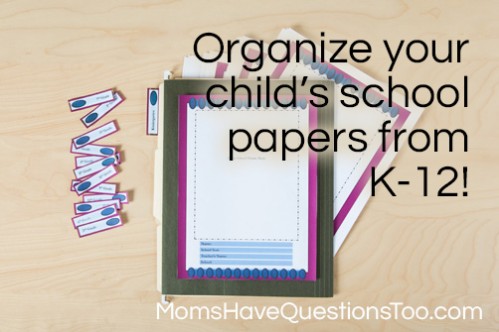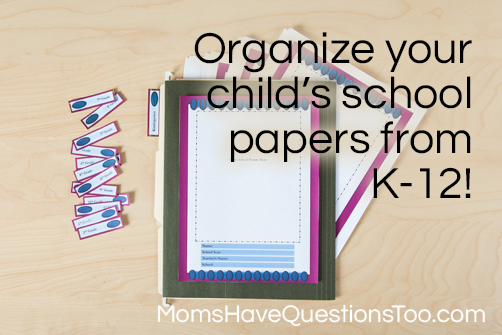 I put the year labels into the green file folders. I labeled the four file folders as follows: Awards, Report Cards, Sample Work, Other. I labeled these in pencil because I figured I might change my mind about what should be in the folders. Also, I'm OCD and I wanted to be able to change the names without making it look ugly.
Last, I glued the large pages to the fronts of the green hanging file folders. There is no school picture yet because Little Bear hasn't started Kindergarten. I will fill out the information once he gets a school picture.
One last thing, just for fun, I included one of these birthday surveys in the front of each green hanging file folder for the elementary years (K-6). I thought it would be fun to have a birthday survey along with all of Little Bear's school things. Now I am officially ready for Little Bear to start Kindergarten, as soon as these tears stop. ;)