What are some inexpensive Valentine gift ideas for her, for him, and for kids?
Have you ever been one of those girls that said you didn't want a Valentine's Day gift and your significant other actually listened to you!?! I never have because the simple fact is, I like gifts and I don't think that's a bad thing. Gifts are a really great way to express love and that is what Valentine's Day is all about, right? I do like giving and receiving gifts, but I also don't like feeling pressured to spend a fortune. Just because I want a gift on Valentine's doesn't mean I expect an expensive diamond necklace. In fact, one of my favorite Valentine's Day gifts was the Disney movie, The Incredibles. My husband knew I really wanted that movie for our family so he took the opportunity of Valentine's day to give it to me, and it was awesome!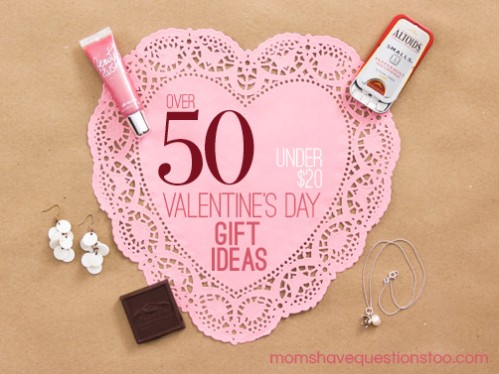 So, how do you have an awesome gift-filled Valentine's Day without spending a fortune? First, set a budget. I know that seems so un-romantic to give a cheap Valentine gift or to set a limit and I'm sure lots of people will disagree with it, but that is what my husband and I do every year. We are each allowed the same amount of money to spend on each other. I'm pretty sure we were only allowed $5 each for our first Valentine's Day. We have increased that amount as we make more money, but we never set a budget that is more than we can afford. Even if you don't have money to spend on Valentine's Day you can always do a homemade gift which can often be much more memorable anyway.
The next best way to have a gift-filled V-day without breaking the bank is to have a long list of inexpensive Valentine's gift ideas. Luckily for you, I have supplied just such a list below. The list has Valentine's Day gifts for kids, handmade gift ideas, gifts for her, gifts for him, and even Valentine's Day gifts for elementary school classes or just for your kids.
Valentine's Gifts For Her:
Valentine's Gifts For Him:
Valentine's Day Gifts For Kids and Elementary School Classes:
Valentine's Day Gifts for Anyone:
Altoids or some other type of mint
A bar of Toblerone or another gourmet chocolate
An extra special homemade dinner
Movie tickets
DVD, here's a great selection of DVDs that are $5 or less
Cute mugs and hot chocolate
If you still haven't found just the right thing you can take a look at the list we made for Christmas with gift ideas under $30. We would love to hear your ideas and add to the list! Feel free to leave comments and link to any ideas you have! Have a Happy Valentine's Day!