I love looking at fun crafts that kids have done. I love walking the halls of a school and seeing cute crafts lining the halls. I'll be honest, though, I'm not one for messes. Or craftiness to be honest. I'm one of those women that has to force myself to do crafts with my kids because if I don't force it, it ain't happening. Luckily for me, I live in the day and age of Pinterest, which means I don't have to come up with a single craft idea myself. Score!
A few weeks ago, I found this website with 31 craft ideas for October from Mamas Like Me. I decided I would do a different craft with Little Bear every single day of October. Well, we didn't start until yesterday, which was the 4th. :( Oh, well. Now my goal is just to see how many we can do. We started with the thumbkin patch craft, but I changed it up a little bit.
First, we started by looking up "pumpkin patch" on google images. Little Bear has been to a pumpkin patch, but since that was a whole year ago, I wanted to refresh his memory. I wanted to specifically show him how the vine is attached to the stem of the pumpkin, not to the bottom of the pumpkin.
Next, we got some paper and our painting supplies and we were ready to paint. I thought the idea of a "thumb"kin patch was really cute, but I wanted the pumpkins to be a bit bigger. So, instead of having Little Bear just paint his thumb, I had him paint his pointer, middle, and ring fingers from the very top knuckle up.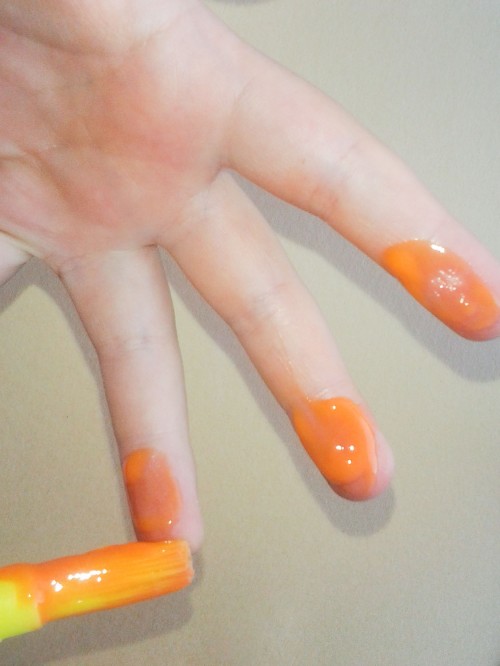 Little Bear then pressed his painted fingers onto the paper and made several pumpkins all around the page.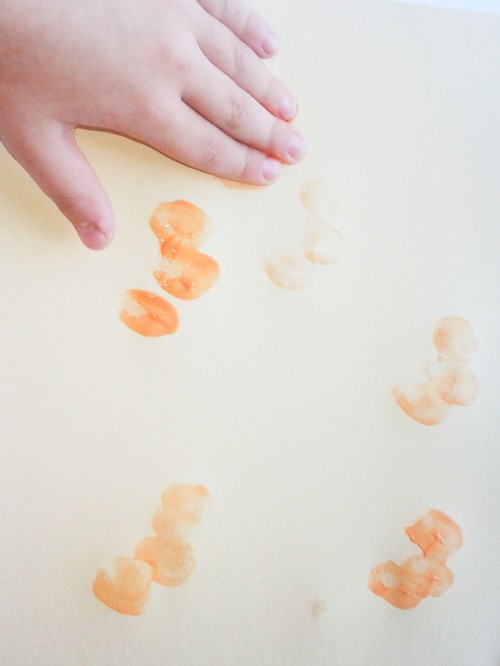 After Little Bear washed the orange paint off of his fingers, he then painted his thumb green so that he could make stems at the top of each pumpkin.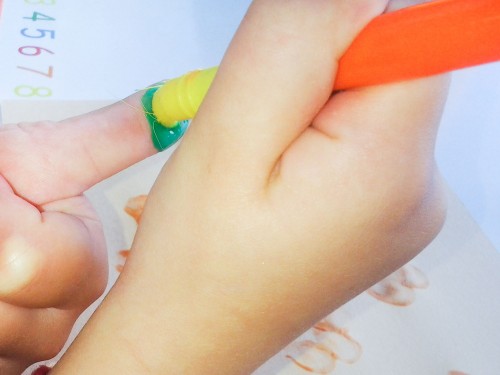 Finally, Little Bear used the paintbrush to paint a vine that connected all the pumpkin stems together. He made one vine go under the pumpkins and I had to remind him the the vine was attached to the stem, but overall I think Little Bear got it.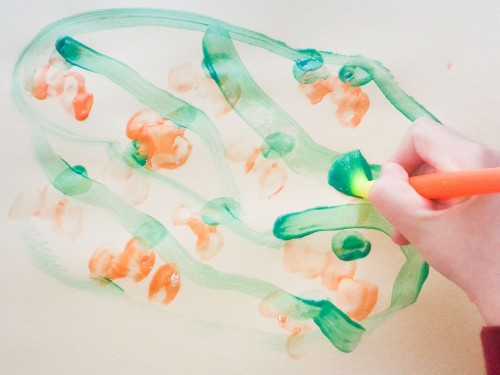 Little Bear always really likes it when we do paint projects. This is slightly strange to me because I'm usually freaking out because he's about to get paint on his shirt, or he almost spilled the paint water everywhere. I try to stay calm, but messes really get me uptight. Luckily, Little Bear can see past all that and actually enjoys painting. I'll be sharing a few of our crafts this month and they will probably be (sigh) messy. I may have to employ some breathing techniques, but I promise that we'll do at least 10 October crafts. What October craft ideas do you have?