I have been waiting to do this toddler music activity for a few weeks now, so when it was time to finally put this post together, I was so excited. The idea behind it is really simple, but it is a fabulous way to get children to express themselves and to listen carefully to music.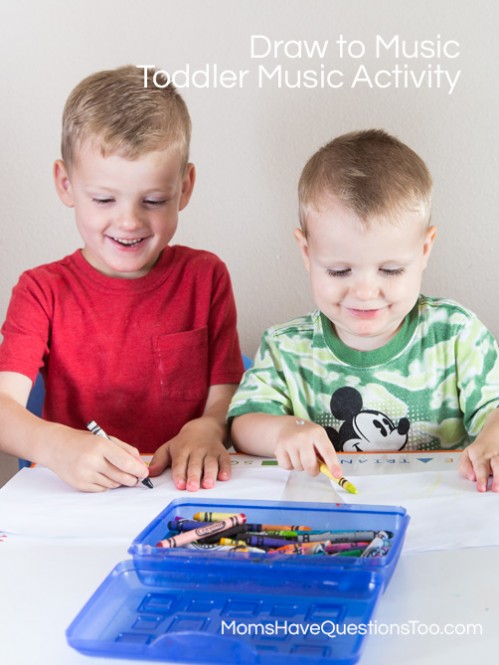 I started this music lesson by giving each of my kids a blank piece of paper and pencil box full of crayons. I told them that we were going to listen to some music and I wanted them to draw to the music. Little Bear asked if he should draw a picture of the music and I said that yes, he could draw a picture, or he could just draw what the music made him feel. I told my kids to listen carefully and choose colors that looked the way the music sounded.
Obviously, Little Bear understood more from my explanation than Smiley Man did, but I'm pretty sure that Smiley Man still understood some of it. I started off playing a Disney song that was upbeat, loud, and fun. Little Bear immediately got a black crayon and started drawing quick strokes along to the beat of the music. Smiley Man chose a yellow crayon and colored quickly.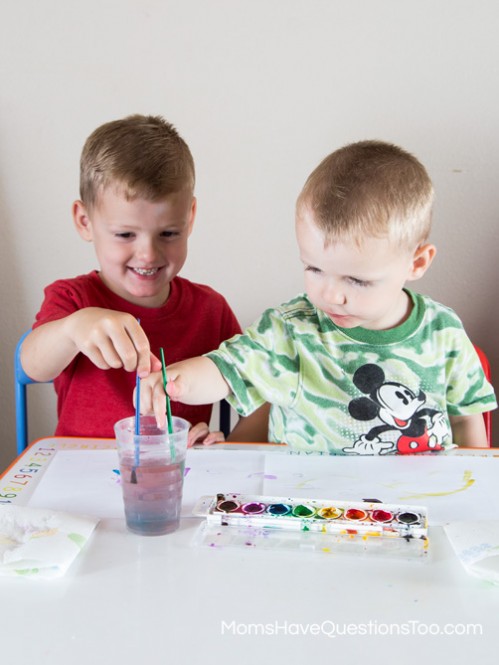 They both changed colors at different points and I thought it was really interesting which colors they chose and how they drew. Sometimes they drew quick movements and sometimes they drew long curvy lines. Little Bear eventually wanted a new piece of paper, which I gave him and he started drawing in a very different way than he had previously.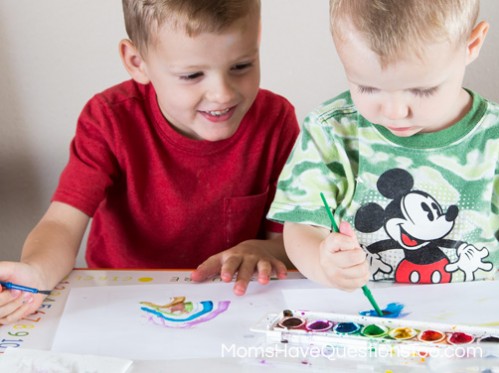 After this exercise, I decided to let my boys paint to some music. This time I chose Little Bear's favorite classical song, Beethoven's 5th Symphony. He painted a watercolor rainbow and chose his colors according to the sounds he heard. He also made facial expressions as he sang along to the music. ;) Smiley Man chose to paint with lots of blue and purple paint, but he occasionally included some darker colors too. Of course, as soon as we stopped taking pictures, Smiley Man dumped the cup of water over and the music lesson abruptly ended. I guess that's real life for you! :)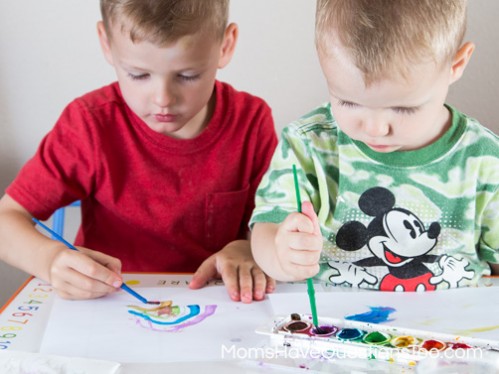 I was really surprised at how well Little Bear and Smiley Man were able to express themselves through their art. This music activity is wonderful on so many levels: it teaches self expression, it teaches art, and it teaches listening skills. Even though my children are very young, they were still able to express themselves well.
*Want to see more themed activities like this for toddlers or preschoolers? Check out our store page where our toddler and preschool series are compiled into Activity Packs for only $1.99! The Activity Packs are full of lesson plans, printables, and a curriculum guide.