What is an indoor game that will develop gross motor skills for toddlers?
Smiley Man is going through a stage right now where all he wants to do is play outside. Normally, I would encourage this, but at the particular moment our backyard situation is a little tricky. This has necessitated indoor activities that are fun and that get Smiley Man moving. Many of our gross motor skills games have been games that can be played indoors and outdoors, so we have been doing lots of those.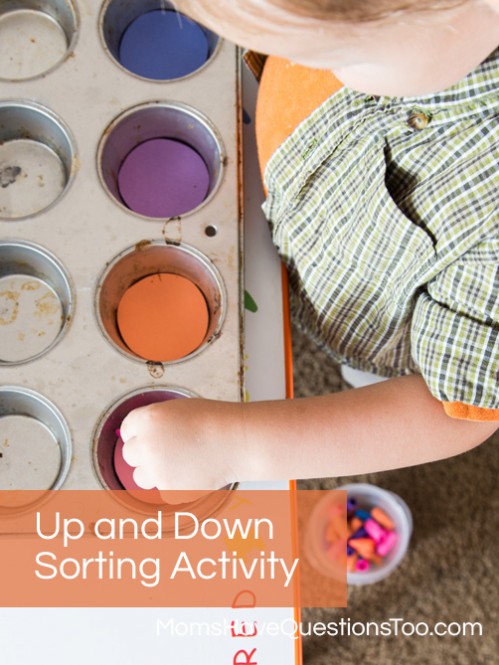 Today I have another fun game that will improve gross motor skills. The thing that makes this game unique is that it's an indoor game. Of course, you could play it outdoors if you wanted, but if your kids are stuck inside because of weather, a lack of backyard, etc., then this game is perfect to get your child moving.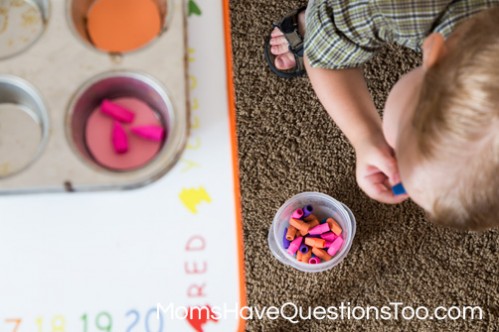 The idea behind this game is very simple. Have your child do some type of sorting activity. The only difference is you put the things to sort on the ground and the place to sort them on a table. Your child must bend down to pick up the items, and then stand up to sort the items. Hence, the game is called up and down sorting.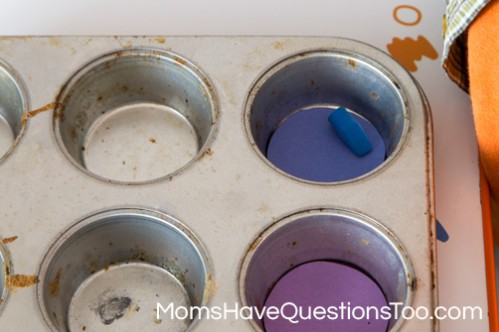 As you can see, I had Smiley Man sort colored erasers into a muffin tin. I cut circles from construction paper and put them into the bottom of the muffin tin openings. Smiley Man sorted the erasers by color, which was great practice for learning the colors.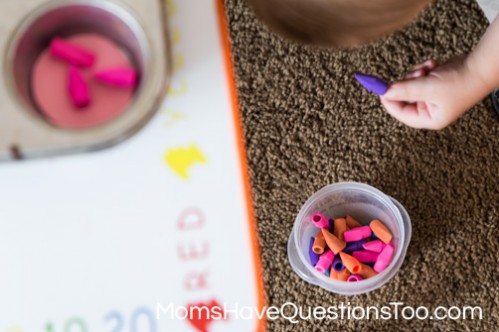 I'll be honest, this was not Smiley Man's favorite gross motor skills game. It was pretty difficult for him to go up and down. He got tired of the activity after only a few minutes. Fortunately, I'm not the type of person that gives up on an activity so easily. I let him stop when he got tired, but we came back to the game several times over the next few days. It was very obvious that he had some improvement in his gross motor development after a few days. I made sure to be extra enthusiastic while we played this game and I gave him plenty of praise. He didn't love this game, but he kept at it. It truly helped his gross motor skills development. Plus, he got some great color practice. Score! I think we'll play this game again in a few weeks, but maybe next time we'll sort shapes.
*Want to see more themed activities like this for toddlers or preschoolers? Check out our store page where our toddler and preschool series are compiled into Activity Packs for only $1.99! The Activity Packs are full of lesson plans, printables, and a curriculum guide.