With the upcoming Easter season everyone is looking for gifts for their kids. If you have boys I'm sure you are well aware that most of their toys seem to be based around violence. It can be hard to find gifts that aren't violence related that are still "cool". Well, one of the best ideas I have found are Hexbugs. (Just so you know, I have included affiliate links here but everything I tell you is absolutely my own opinion and I'm writing this post because I really like Hexbugs Nanos!)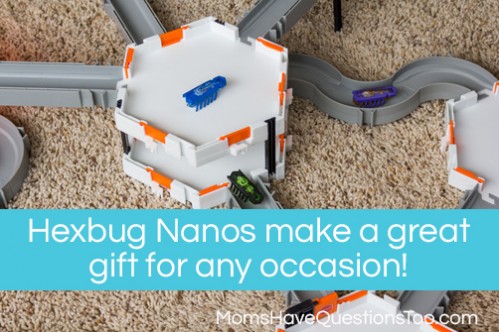 To give you a little background…My parents always try to find a fun family toy or game for us to play with on Christmas morning. A couple years ago they bought Hexbugs. At first it seemed like a silly thing for adults (all of my family is now over 18) to play with, but we loved them! We built a couple different tracks and then had races to see which person's bug could get to a certain point first.
These "bugs" vibrate which makes them move. They wiggle along a track and look just like a bug. Like I said above, it's fun to create a race track and have races to see who's bug gets to the end first. You can also have "wars" with the bugs and see who's will be knocked over first or fall off the track first. We've even tried adding obstacles to the course to see what they do.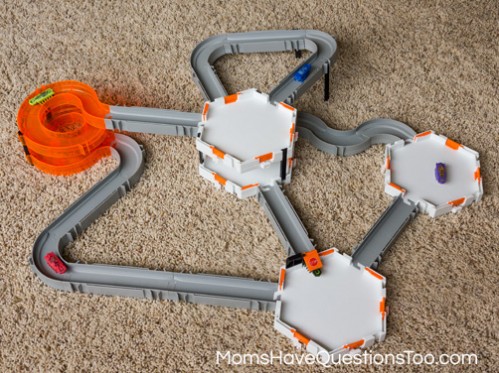 A few months ago my husband and I were babysitting my nephews (from his side of the family) at my parents house and we got the Hexbugs out for them to play with. They spent hours playing with them! We had to change up the batteries in most of the bugs before they were through playing with them, but it was well worth it for the amount of time they were entertained.
A few weeks before Christmas my sister-in-law (who's boys we were babysitting) and I were talking. She mentioned to me she was trying to come up with a gift idea for one of the boys. I told her how much fun he had playing with the Hexbugs when we were babysitting. She thought that was a great idea and got those for him. He and his brother were both very excited for that Christmas gift. As it turns out, another nephew also got them for Christmas this year!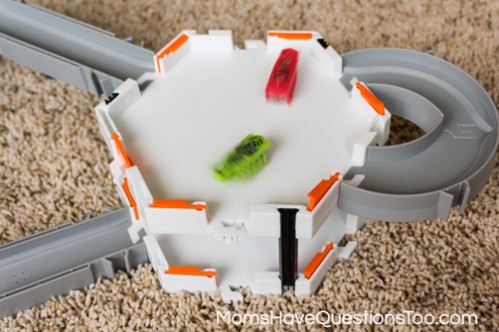 From personal experience I can honestly say that these little bugs, silly as they seem, are a really fun thing for young boys, girls and even adults! From my experience all of the bugs have worked really well. Some are a little speedier than others, and they slow down a little when the batteries are almost dead, but we've had a great experience with them. Just be sure to have extra batteries on hand!
You can buy individual bugs as well as a fun set. This particular set comes with a couple bugs and track pieces. It would be a great starter set. You can also buy just the bridges (also curved) and hex pieces. We have the Elevation 3D set which has a lot of options for creating tracks.
So, if you are stumped trying to find the perfect gift for your son, nephew, grandson, or kids, consider getting Hexbugs!