How do you make homemade matte mod podge?
Homemade mod podge is not only super fast and easy, but it is also very economical. All it takes is some Elmer's glue and some water. I have used it for many crafts and it has been working great! So, I'll get straight to it.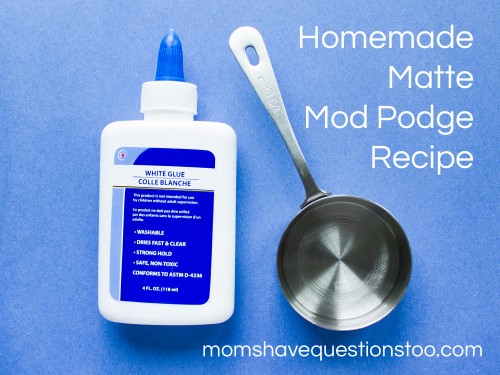 The original recipe says to mix 1 part water with 1 part Elmer's glue. I found this mixture to be slightly runnier than I wanted it. I was worried that it wouldn't hold quite as well as I needed it to. Here is the recipe that I used:
Homemade Matte Mod Podge
2/3 C Water
1 C Elmer's glue
Pour ingredients into a container (I used a pint size mason jar, Cassidy used this black container shown) and stir until they are combined. Store with lid tightly closed.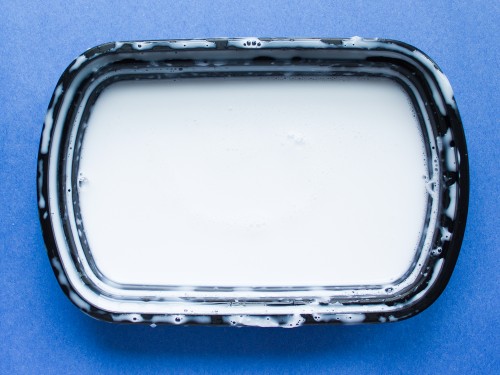 As you can see, I used 2 parts water and 3 parts Elmer's glue. This mixture has never been too thick for my purposes and it has always been strong enough. So far I have had my mod podge for about 3 months now and it is working as well as it did on day one. I have used it to make a flat marble alphabet and for many more projects. I always use a paint brush to apply the mod podge and it works very well. Little Bear even used the mod podge when we made paper candy corn.
Supposedly, you can add some clear varnish to the mixture and it will turn it from matte mod podge to shiny mod podge. I have not tried this so I don't know exactly what kind of varnish to add or how shiny it makes the mod podge. I would love for anyone to share their experience if they have added varnish. The homemade matte mod podge still works great and it only cost me 50 cents! Now that is a price you can't beat.