About a year ago, I was introduced to bathtub crayons. I was very intrigued by the concept that kids could play with crayons for the bath. Little Bear went through a stage in his life where he hated baths. Luckily, some fun bath toys quickly remedied that problem, but I wish I had known about bathtub crayons back then. He would have loved coloring while bathing. Plus, homemade crayons for the bath are made with soap. That means, little hands get extra clean when they play with bathtub crayons.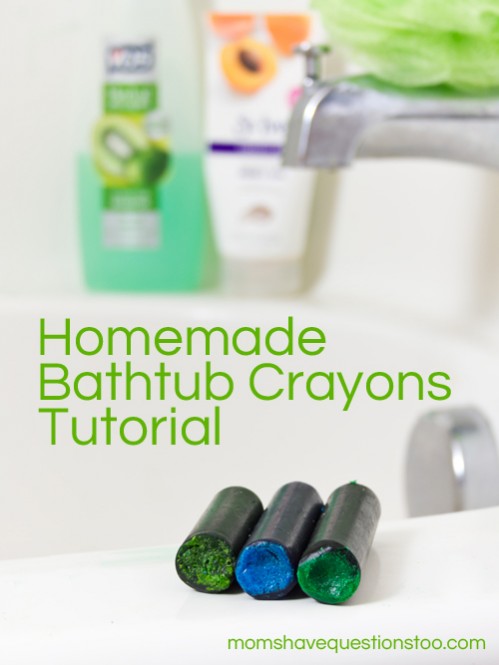 There are two kinds of bathtub crayons that I know of. The first are the store bought kind like these Crayola bathtub crayons, these Munchkins Bath Crayons, and these Endangered Species Bath Crayons. I have not used any of the store bought bathtub crayons, but I have heard they are tricky to clean up. Mostly I am too cheap to buy something that I can make homemade. So, I decided to make homemade bathtub crayons.
Here are the supplies needed:
Glycerin Soap (I used less than ½ lb.)
Pot for melting soap
Something to stir the soap
Water bottle ice cube tray (any type of ice cube tray will work. I specifically used the kind for water bottles because I wanted my bathtub crayons to actually be crayon-shaped.)
Cooking Spray (optional)
First, cut your soap into small chunks. The soap I bought was already cut into chunks, so I skipped this step. My chunks were about 2"x1 ½ "x1".
Next, put one soap chunk into your pot and put on very low heat. It will take about 5 minutes for the soap to melt completely.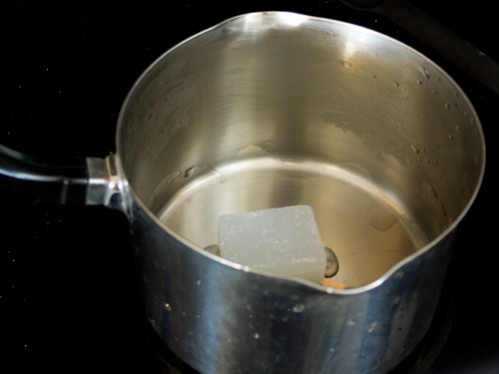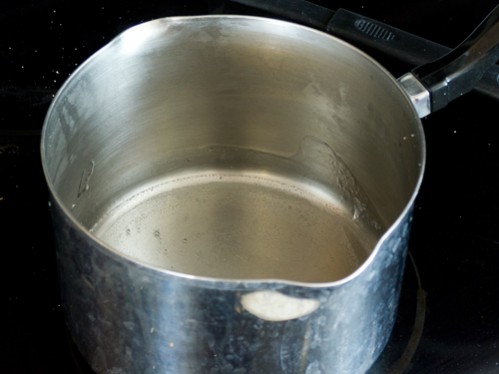 While you are waiting for the soap to melt, spray cooking spray into the slots where you will be pouring the soap. This step is optional, but it does make it easier to remove the bathtub crayons after they have cooled. I forgot to do this for the first few bathtub crayons that I made and I was still able to remove them. However, they were MUCH easier to remove when I sprayed the ice cube tray with cooking spray first.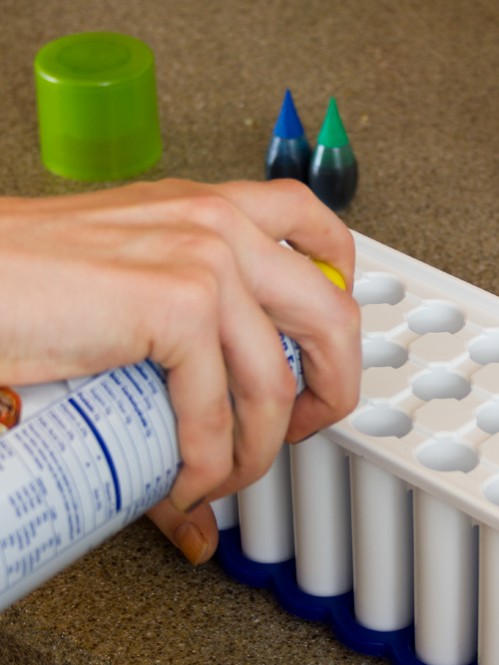 Add food coloring. I experimented with different amounts of food coloring and 20 drops seemed to be the ideal. The color of the crayons got darker and darker the more food coloring I added, until about 20 drops. After that they pretty much looked the same. The color is still kind of light on the bathtub walls, but it is still dark enough to see and my boys absolutely love them!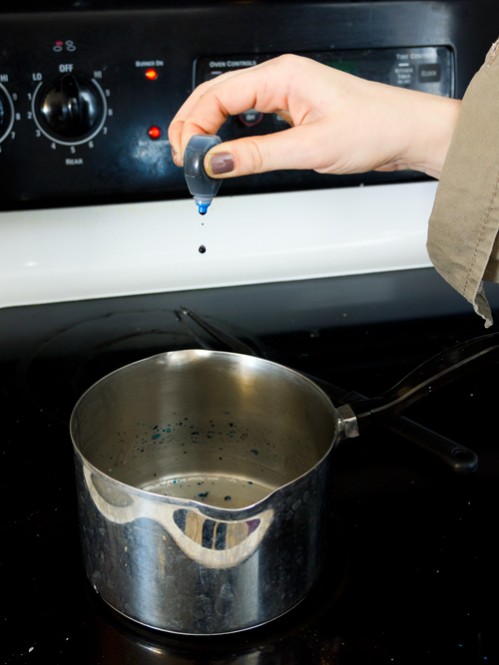 Next, stir the food coloring in.
This next step should be done very quickly with as little cooling of the soap as possible. Remove the pot from the stove and quickly pour the soap into the ice cube tray. My chunks of soap made about 1 ½ crayons in the water bottle ice cube trays.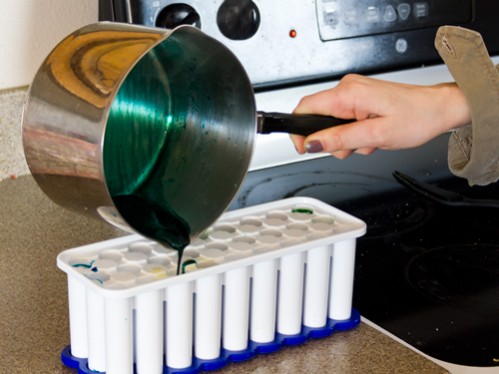 Let the soap sit for about an hour while the soap hardens. If desired, make some more bathtub crayons.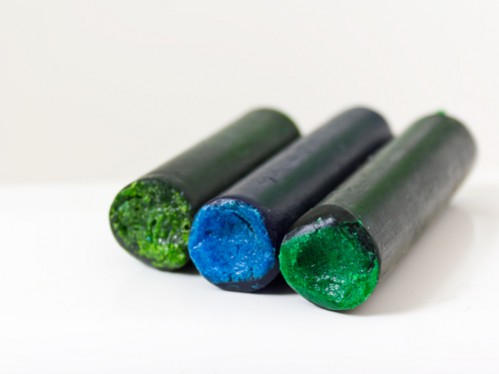 Finally, use the bathtub crayons on your bathtub wall. As I mentioned before, the color of these homemade bathtub crayons is not very dark. It does show up though and both Little Bear and Smiley Man BEG to play with these crayons for the bath. I would not suggest making a yellow crayon. It will not really show up, no matter how much food coloring you add, so you might as well skip it altogether.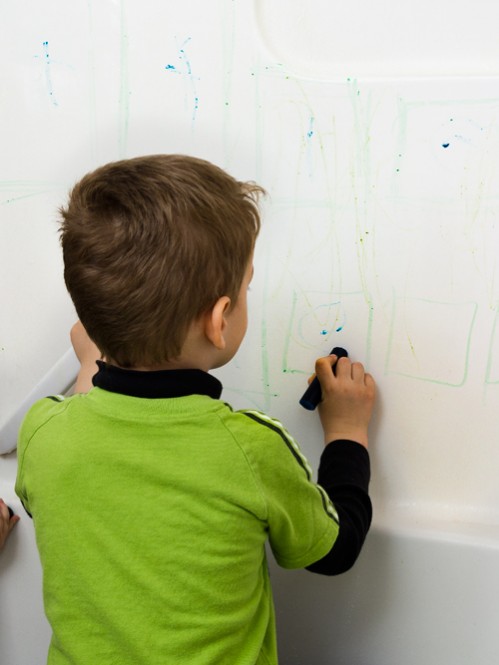 I wondered what would happen if they crayons were left in the tub for a while. Eventually they will fall apart so you don't want to leave them in there for too long. This is what it looked like after about an hour sitting in the water (just so you know, it was a short crayon, only about an inch long).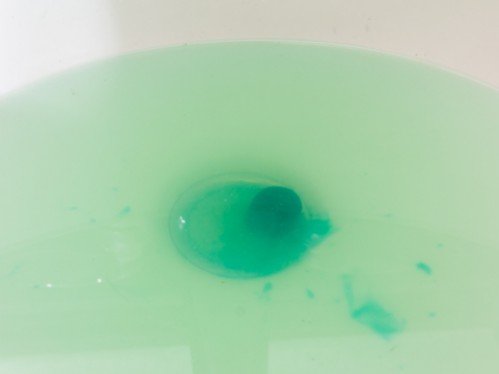 One last thing, it is very easy to clean up after using these crayons for the bath. Simply get a washcloth, loofah, or even your hand wet with warm to hot water. Now, wipe the crayon off of the bathtub wall. Voila! Easy. I have even let the crayon sit on the wall for several days (certain masterpieces must be cherished longer, after all) and it was still just as easy to clean up. I love that these bathtub crayons are made with soap because I'm not worried about the color getting on skin or staying on the wall.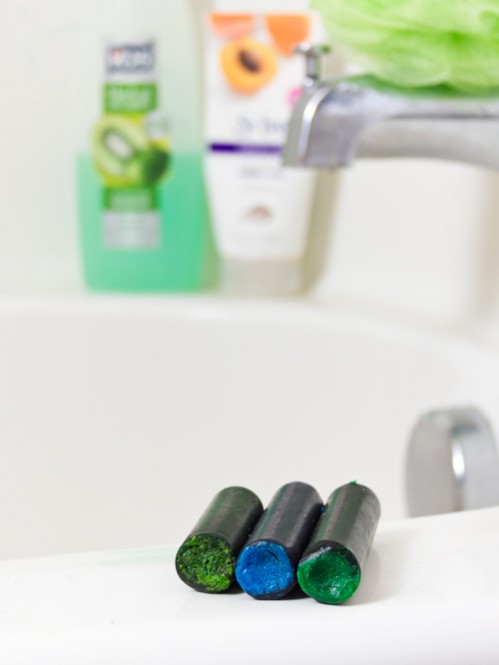 Plus, we use bathtub crayons for a really fun preschool activity. I'll be posting about it in about a week so check back to see it.