What is a Christmas Vignette I can do with my children to focus on the true meaning of Christmas?
When Kirstylee and I were about 14 or 15, the Relief Society president in our ward asked if we would participate in an activity they were having that centered around the song Silent Night. She asked if we would come up with a short Christmas vignette that would incorporate us singing the 3rd verse of Silent Night. We were excited to help and each spent a few days brainstorming. Then, we got together and planned it out. I'm 99% sure most of the idea was Kirstylee's, but I do remember adding a couple things here and there :).
While we were practicing I felt that our "performance" would be perfect for the Relief Society sisters and would be a nice addition to the vignettes older women in our ward were doing. Once we were actually performing and singing, the spirit was so strong. I remember several people commenting that even though we didn't really have a baby in our arms it still seemed so real.
I was supposed to sing the alto part of the song but got so scared when we actually performed that I couldn't do it and just sang the soprano part with Kirstylee. I have to say though that I think the unison made the song even more powerful at the time.
As I have been thinking about holiday activities I realize how few of them seem to center around the "true meaning of Christmas", to use the cliche. While the vignette we created was very simple and maybe a little cheesy, I thought it would be a fun thing to reenact with some of my cousins before the holiday. I decided to write it out as best I could remember and share it with you as well. I thought, if I'm looking for more ways to focus on Christ other people probably are too.

If you'd like you can download a copy of the script for this Silent Night Christmas Vignette for your own use.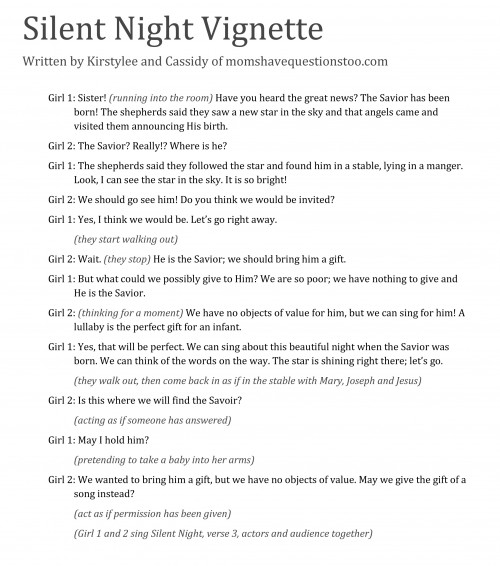 We hope Christ can be the center of your home and thoughts this Christmas.
Merry Christmas!