Where can I find ideas for New Year's Eve Celebrations? What are some fun New Year's Eve traditions?
On Friday we will share a post about New Years Eve Celebrations for kids. There will be several ideas for celebrating New Year's with kids. If you are looking for even more New Year's Eve ideas for kids or just New Year's Eve ideas in general, check out these great links. Also, I'll tell you a little about some of our New Year's Eve traditions!

Cassidy's New Year's Eve Traditions for Children and Adults
For several years my extended family (who all live within 30 minutes of each other, except for one family) would get together and party on New Year's Eve. To make the night a little more exciting, and less stressful, we would do a rotating party. At each aunt or uncle's house we would have a small treat or appetizer as well as do an activity. The night started around 8:00 and we usually went to 3 or 4 houses. We generally ended up at my parents house to watch the ball drop.
One of our favorite activities is to play dodge ball. Our church has a large open court that we are able to use. We line all of the balls (very soft and kid friendly, but still fun for adults too) along the middle, someone yells go and then we run for the balls. It is fun because the adults and kids can play together. We also mix it up and do adults vs kids, boys vs girls, even birthday months vs odd birthday months, Alpine and Cedar Hills vs Lindon, and anything else we can think of to have a good mix of people for the teams.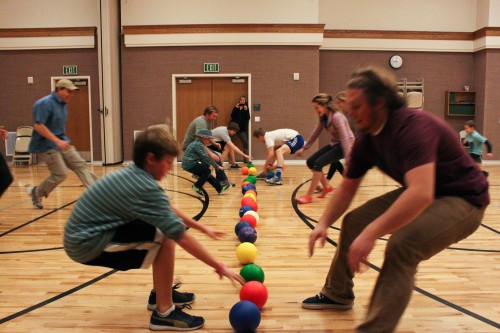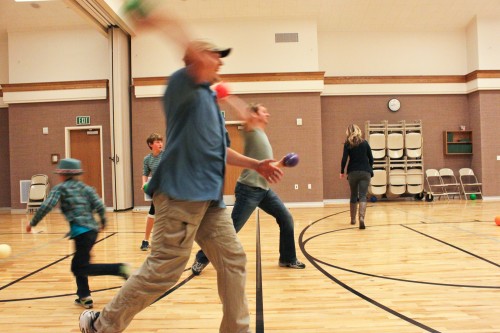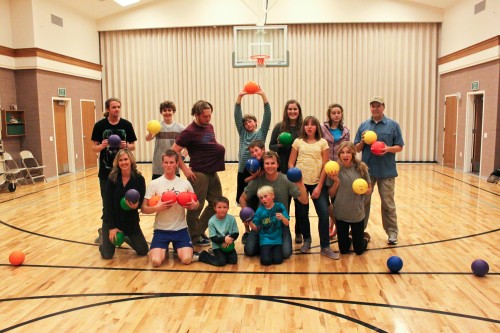 Some of our other activities have included:
Card Games
Trivia Games
Musical Chairs
Cake Walk (or something similar)
Pool Tournaments
Around the World Ping Pong
Foosball Tournaments
Air Hockey Tournaments
Karaoke
Dance Offs and a Dance Party
Minute to Win It (or similar games)
I think you probably get the idea. It's nice to rotate between houses so that one person doesn't feel like they have to entertain everyone the whole night and they only have to do a small amount of food. Also, we can start the party early because there are so many fun things to do!
One of the highlights of New Year's Eve though is my dad's obsession with balloons. We haven't done this every year, but we have done it a lot. My dad will blow up hundreds of balloons (with a pump…) and fill our "big room" with them. Usually we just have a bunch of balloons on the floor. Last year though he even did helium balloons so the floor and ceiling were covered. He and my sister also made some balloon animals as well to make things more interesting. The kids (and adults) really love it! Then when the clock strikes midnight (as we watch the ball drop) everyone starts popping the balloons. It's loud and fun! I think this is among my favorite New Year's Eve traditions and I know all the kids really like it too!

If you are still wanting more New Year's Eve ideas we've compiled a nice list of ideas for you! Feel free to share any of your New Year's Eve party ideas with us too!
More New Years Eve Celebrations for Kids:
New Years Eve Party Ideas:
Food for New Years Eve: