Smiley Man is loving these tot trays so much! He really likes that he does his own school work. I really like that he is engaged while Little Bear is doing his preschool stuff. My biggest problem is explaining to Smiley Man that he can only do his trays during school time. :) Even Little Bear likes to do some of Smiley's tot trays. The tot trays for the next two weeks are Valentine's Day themed.
Here are the tot school trays in more detail:
Sweep small hearts into a big heart
Use the mini broom and dustpan (dollar store) to sweep the small plastic hearts (also dollar store!) into the heart made from masking tape.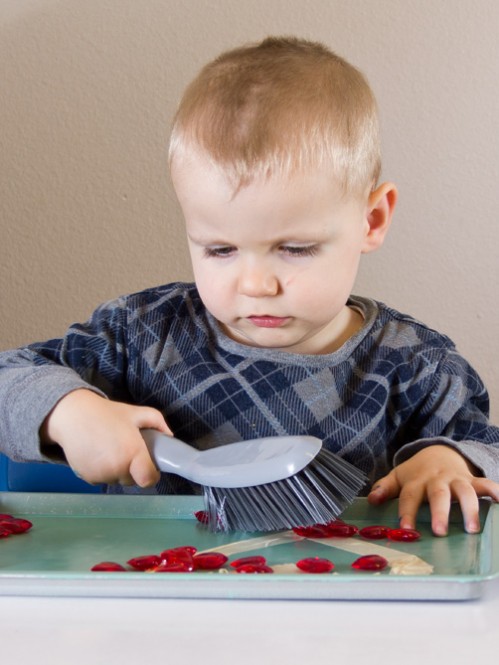 Valentine's Stamps and Paper
Play with Valentine's stamps using stamp pad and paper.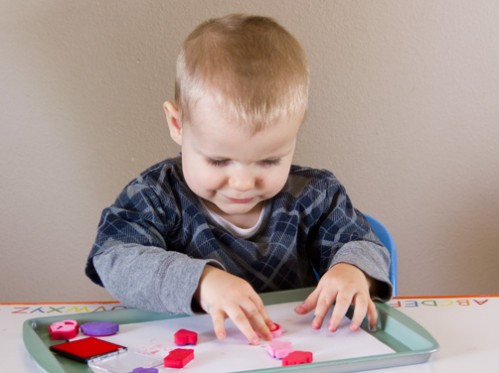 Matching Stickers
One sheet has 2 rows of stickers. Smiley Man draws a line to the matches. The second sheet just has stickers and there are some stickers on the tray. Smiley Man gets a sticker from the bag and puts it next to the same sticker on the paper.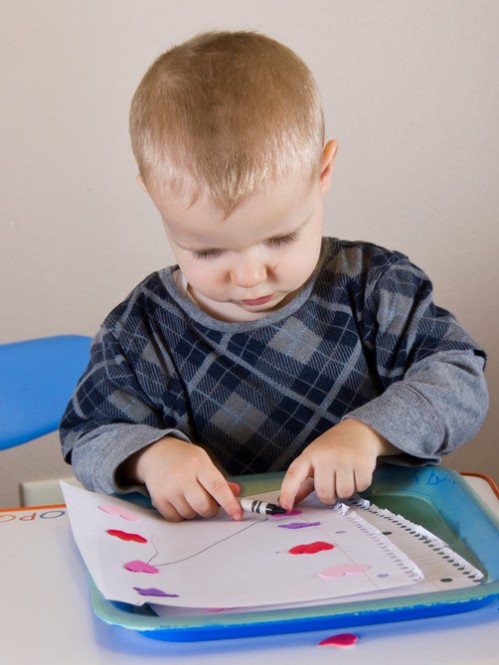 Styrofoam and Toothpicks
A heart shape is drawn on the sytrofoam and Smiley Man uses the toothpicks to cover the heart shape.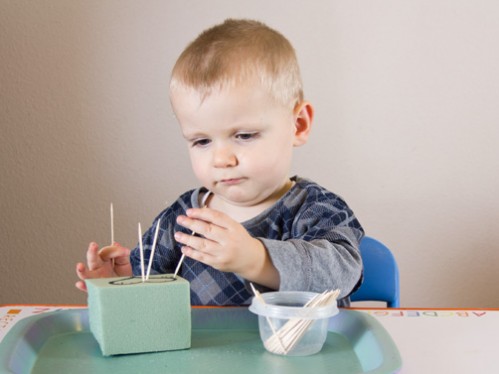 Counting Hearts
There are three clear cups on the tray. Each cup has a number attached to the front of it (1, 2, 3). There are 6 heart picks (dollar store) on the tray. Smiley Man puts the correct number of hearts into each cup. I started this tray with only 1 cup, and then added the second cup after a day or two. I haven't actually added the third cup yet. I'll add it when I think Smiley is ready.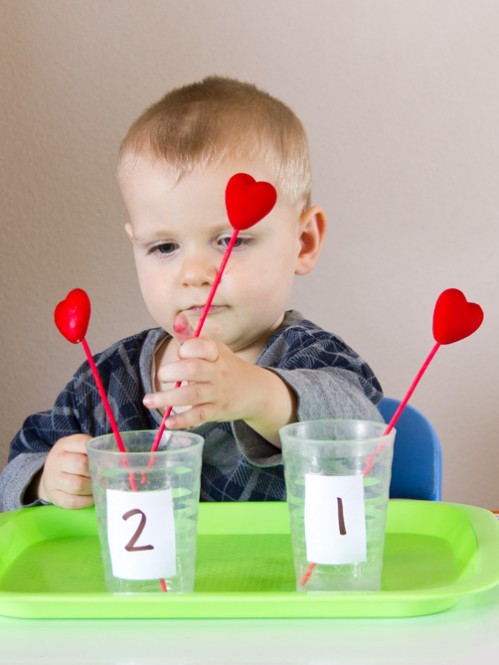 Color Game 5 and Color Game 6
Each color game is only on the tray for one week. The rest of the activities are on the trays for two weeks. That means I go through two color games, but only one of all the other activities. Here is Color Game 5 and Color Game 6.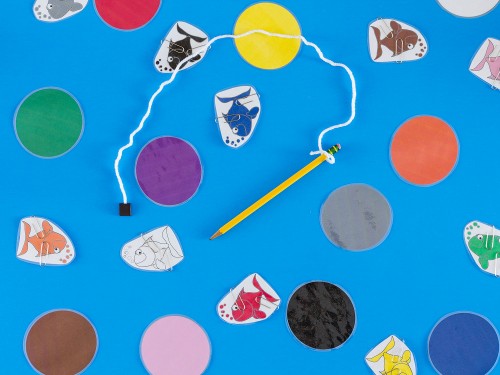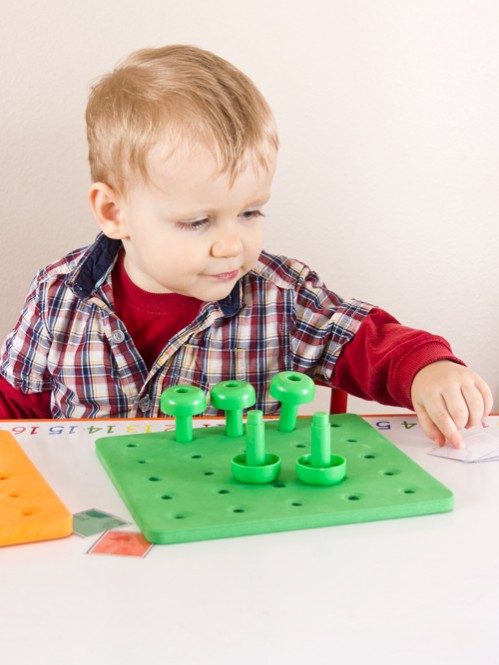 Valentine's Day Tot Book
I read this book at least once during the time that these trays are out. If Smiley man uses this tray while I am working with Little Bear, he can color the pictures or just look at the pictures as he turns the pages. I do not in any way expect Smiley Man to learn how to read by looking at this book. This book is simply for exposure to words and letters and concepts of print. I usually make these books in black and white, but since the book is about the color red, I decided to make a color version, too. We used the black and white version.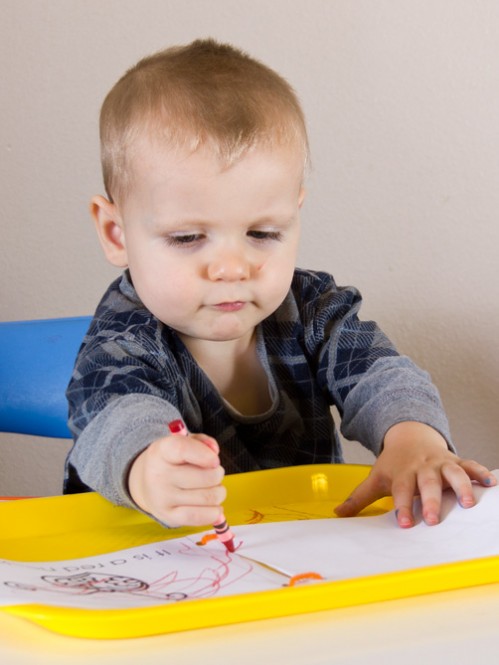 Printables
Color Hearts, Pompom Magnet page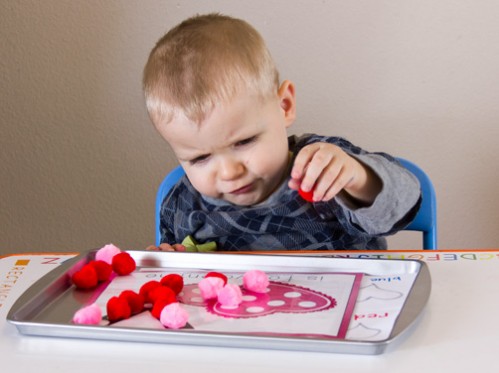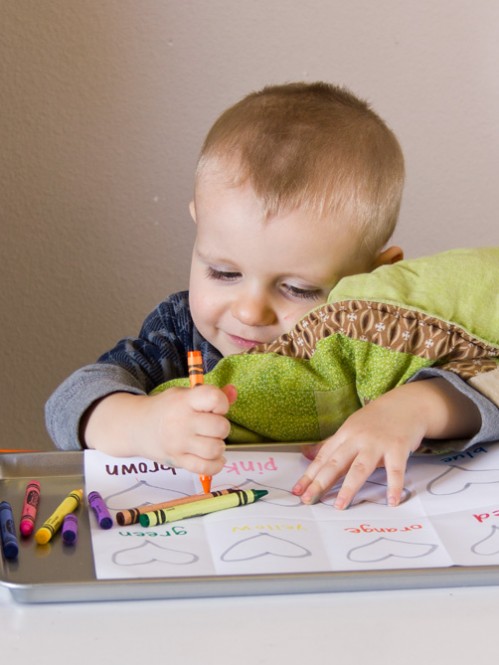 Featured Toy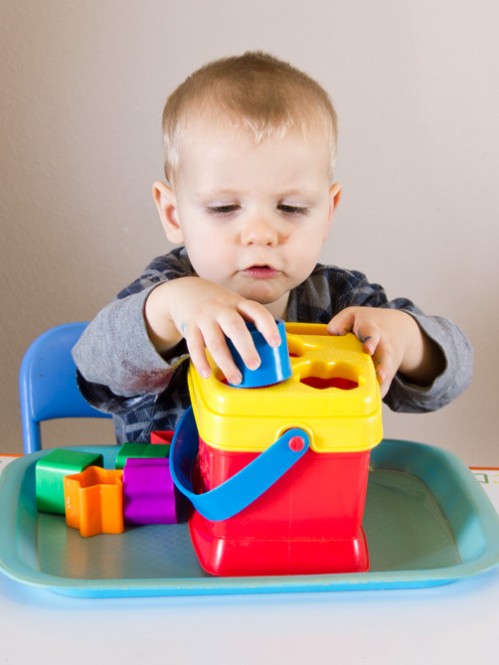 Themed Books
Do You Want to Be My Friend?, Officer Buckle and Gloria, Valentine Friends, Alexander and the Wind-Up Mouse . These books have a theme of love and/or friendship. They are not necessarily Valentine's Day books. Here are a few Valentine's books if you looking for those: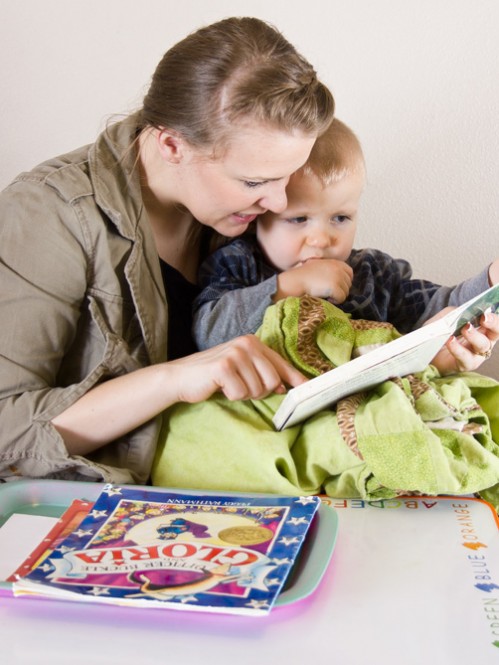 Tissue Paper Hearts
Cut out a black heart outline. Place it on a piece of contact paper. Be sure that the contact paper has the sticky side up. Put small pieces of tissue paper next to the heart outline. These can be very small pieces so no tearing or cutting is required, or you can have bigger pieces so your toddler has to cut or tear the pieces before putting them on the contact paper. Your child will put pieces of tissue paper on the sticky side of the contact paper. When the masterpiece is finished, cover the tissue paper side with another sheet of contact paper. Cut off the extra contact paper before displaying the heart. Make as many as desired.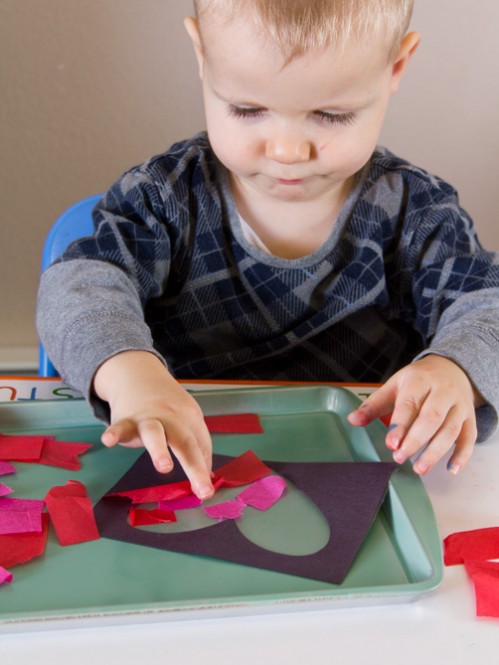 Tearing Paper
On the tray are a few different pieces of construction (red and pink) in different sizes. Smiley Man tears the paper to his heart's content. This one is always a favorite!