What is a game that my preschooler can play all by himself during quiet time that will make him think?
Little Bear got an awesome game for Christmas and I had to share it with you because it is awesome! It's called Castle Logix and it is the perfect quiet time game. Quiet time is the time when Smiley Man and baby Sport are taking a nap and I am busy doing blog work. Little Bear is too old for a nap, so this game is perfect for giving him something fun to do so that he doesn't bug me every five minutes. ;)
The game has very high quality wood pieces that are thickly covered in varnish. Let's just say that the pieces have stood up well to my boys' aggressive use, which is definitely an amazing feat. Our toys get worn pretty fast. The colors on the pieces are vibrant and colorful. There are 4 castle block pieces that are all different sizes. There are 3 turret pieces, all different sizes.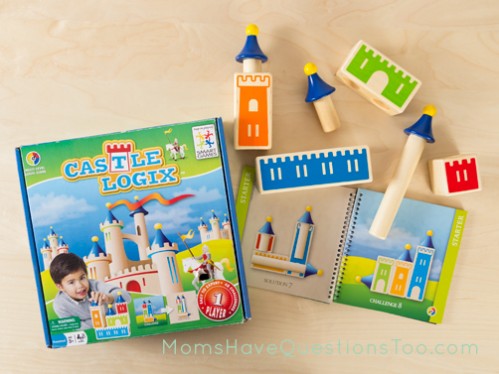 The game comes with a puzzle booklet. The idea is to make the same castle as the one in the picture of the puzzle booklet. I was extremely impressed with how many different combinations were possible with only the seven pieces. The booklet has 4 levels that are color coded: starter, junior, expert, and master. There is an answer key on the back of each puzzle.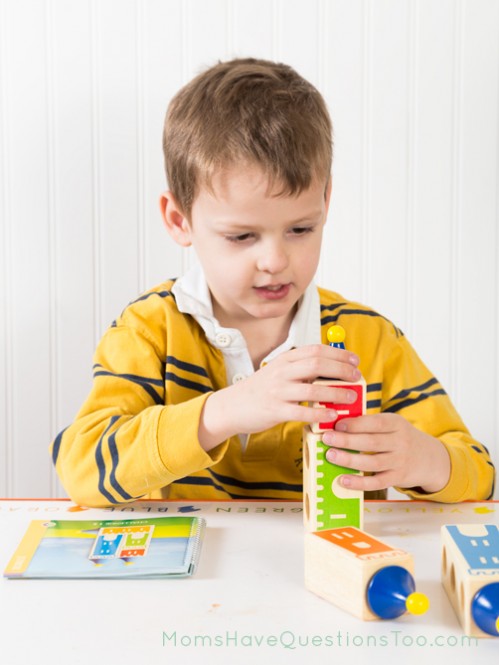 The levels are very different in terms of difficulty. The starter level is simple enough for a 3 year old, but the master level would take some serious thinking even for me. The absolute best thing about this game is that it only takes one player. Little Bear can play this for quite awhile during quiet time. Having a game that makes Little Bear think AND that keeps him busy is absolutely invaluable now that I'm a mommy of three.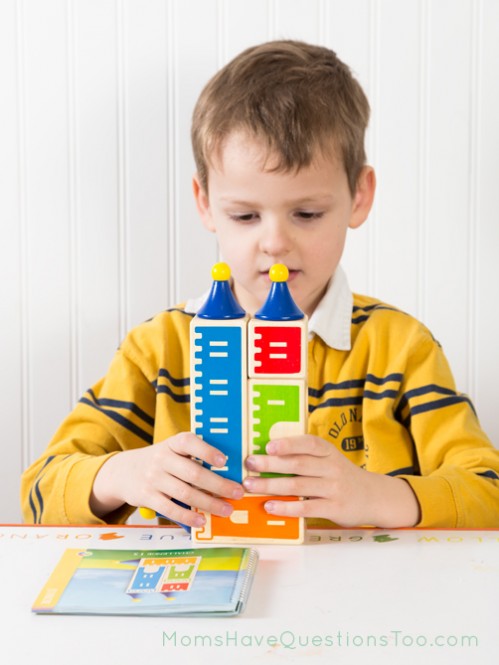 Plus, this game draws creative thinking out of Little Bear. He can obviously do the puzzles as is intended, but he has also thought of other ways to play with the pieces. He likes to look at the answer for the more difficult levels rather than look at the puzzle. This still requires some thinking and some balancing since the master level is quite difficult. Little Bear also likes to make up his own castles. And of course, he likes to use the pieces for make believe. Invisible knights and dragons frequently join Little Bear in his castle building. :)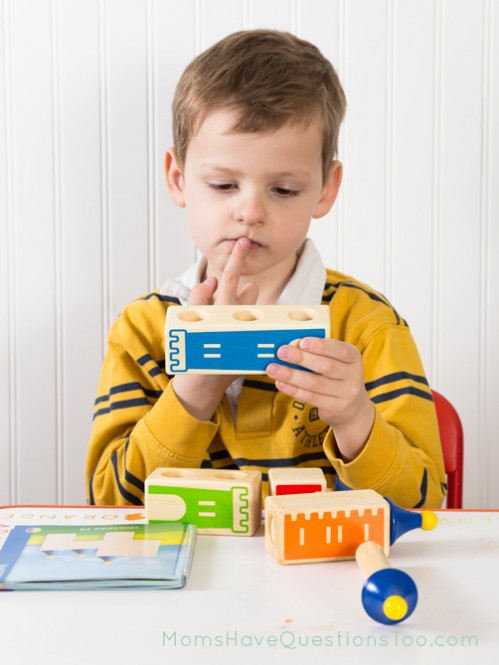 Overall, this is a great game that has truly been loved by Little Bear and even a bit by Smiley Man. I've been wanting to get this for Little Bear for a long time so I was very happy that it has lived up to my expectations. If you are looking for a game that will keep your preschooler or Kindergartener busy, then I highly suggest Castle Logix.
[hr top]
We've found some fun people with great linky parties. You might just see this post linked up on one of these amazing sites!
No Time for Flashcards, Train Up a Child, Teach Beside Me, 1+1+1=1, Living Montessori Now, In Lieu of Preschool, ABC & 123, Sun Scholars, All Our Days, Frogs and Snails and Puppy Dog Tails, Homeschool Creations, 123 Homeschool 4 Me, Teaching Mama.