I hate art projects because they are so messy. What do I do?!? What is a preschool craft idea I can do with my child?
Well, it finally happened. Two days ago I lost my temper. It was the first time in my whole entire life that I have ever lost my temper. I have never, ever, ever yelled at my children or gotten frustrated by them until yesterday. Okay, unfortunately, that's not true. I've lost my temper lots of times over the years and let me tell you, the guilt that follows is not pleasant.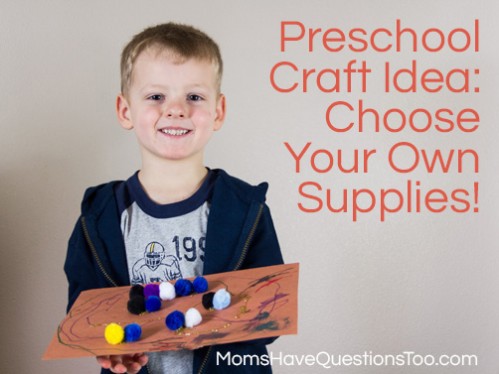 Well, yesterday I got frustrated over a mess. I don't like messes. I'm not one of those moms that does sensory baths or lets my kids play in the mud and ruin their clothes. I'm one of those moms who can't stand glitter and paint. I try to do those kinds of crafts with my kids because I know they are kids and I want them to have those experiences. But seriously, my nervous system goes into full fight or flight mode when I do messy crafts with my kids. So, yesterday, Little Bear wanted to create a masterpiece, but he didn't have permission and the resulting mess was completely un-contained and just plain more than I could handle.
After the kids had gone to bed, I thought back on that mess. I was so stressed and irritated that it got so messy, but I realized that Little Bear was craving an opportunity to create. I decided I needed to give him more opportunity to create so he could be creative and express himself. I also knew that I needed an activity that could be contained and that wouldn't make so much of a mess that I would lose my temper again.
So, the Choose Your Supplies activity was born. I started by telling Little Bear that we were going to do a fun craft. I set a cookie sheet in front of him and told him that he would be using lots of supplies, but everything needed to stay on the cookie sheet. He understood since we have this rule with many of our activities. Next, I had him choose a piece of construction paper for the base of his craft. He chose brown.
Next, I told him he could choose 4 supplies that he could use to make his craft. I chose 4 because he is 4 so that's obviously his favorite number. ;) I told him he could choose any supplies he wanted: paper, glue stickers, dot markers, glitter glue, popsicle sticks, straws, etc. He chose watercolor paint, markers, glitter  glue, and some pompoms.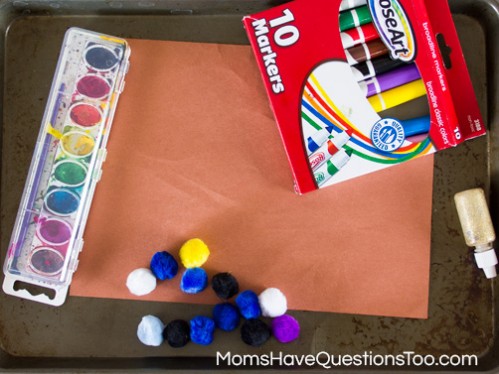 I had Little Bear bring his supplies to our table and then I told him to create whatever he wanted. He got right to work on his masterpiece.
He was completely engaged for about 30 minutes. He kept telling me what he was putting on the paper and how cool it was.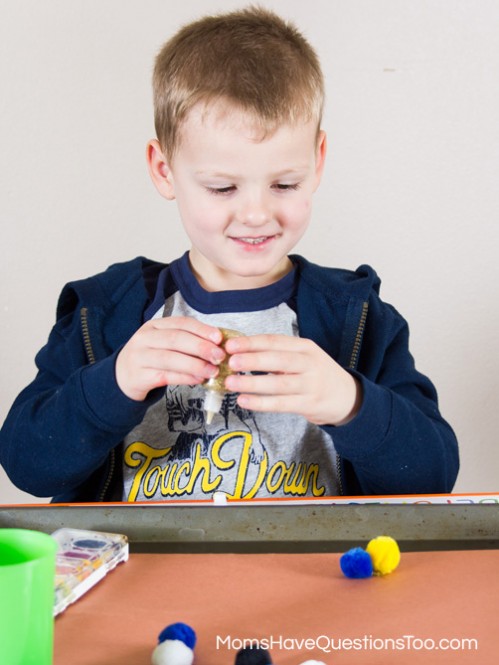 By the time he was finished, he was very proud of his artwork. Of course, his mommy is even more proud. I mean, just look at the abstract design of that glitter glue. :)
We put his artwork in a special spot so he could show daddy when he came home. Daddy was very impressed.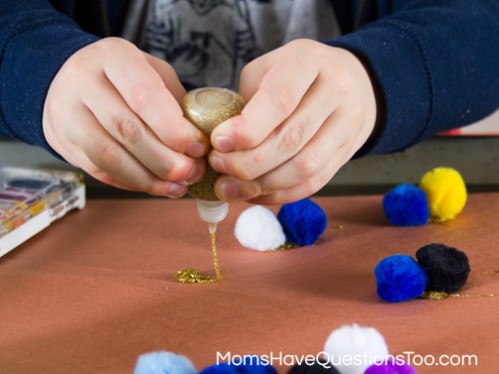 I certainly learned a thing or two from this activity. I realized that sometimes (okay, maybe most of the time) when I get frustrated, it's probably at least 50% my fault. I also learned that messes are far less stressful when they are contained. I also learned that Little Bear is very creative.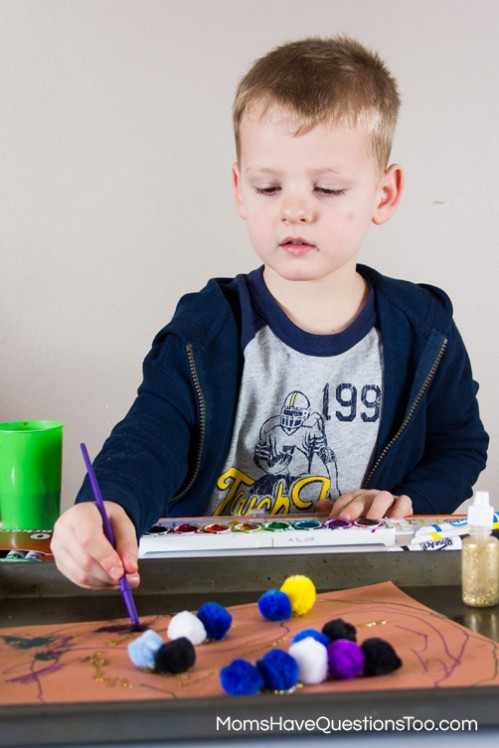 I plan to make this Choose Your Supplies activity a regularly occurring activity in our house. I'll probably let Little Bear do it about once a week. Who knows, I may even let Smiley Man get in on the action. I am really working on letting Little Bear express his creativity and giving him more opportunities to do that. I am also SOOOO grateful for cookie sheets. They preserve my sanity!