What is a fun fine motor activity that will also help teach preschool patterns?
It's time for a new preschool series and this time I decided to do patterns. Check out our store page for some preschool and toddler series that have been compiled into Activity Packs (only $1.99!). They include extras like a curriculum guide and more printables.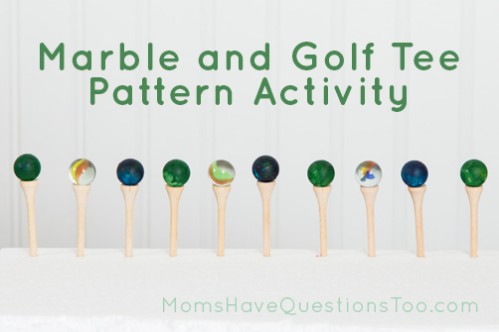 Patterns are great for preschool. They teach visual discrimination, early math skills, and if they're done right they can be a lot of fun. Today's pattern activity uses golf tees, colored marbles (or pompoms) and some flower foam. Start by having your preschooler put the golf tees into the flower foam. For an added challenge, draw dots on the flower foam and have your preschooler put the golf tees directly in the dots. This was pretty easy for Little Bear (5), but it was a good challenge for Smiley Man (2). Be sure that the golf tees are nice and level on top or the next part will be too hard or impossible.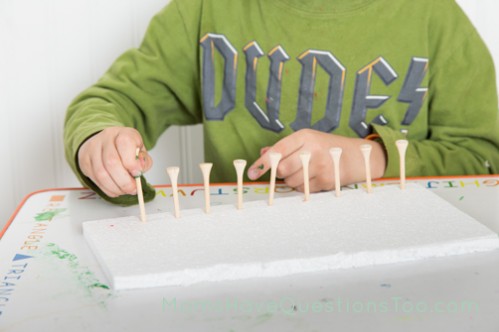 Next, get out some colored marbles or pompoms. I wondered if the pompoms or the marbles would be more challenging. Turns out, they were both pretty challenging in their own way. Have your preschooler create simple patterns with the marbles by placing them on the golf tees. Start with ABAB patterns and do more difficult patterns when your child has ABAB down.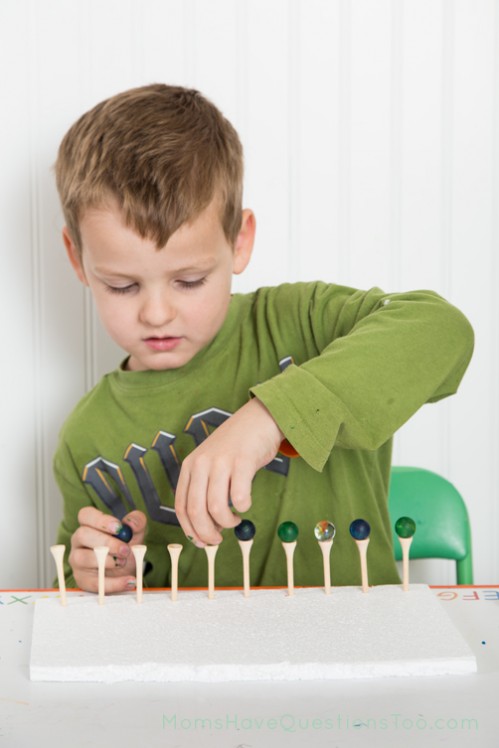 This is the first time I have ever done any kind of patterns with Smiley Man, so this was pretty hard for him. He did really enjoy the challenge of putting the marbles and pompoms onto the golf tees though. Little Bear has been doing patterns for a long while now, so this was really easy for him. Like Smiley Man, he also really enjoyed putting the marbles and pompoms onto the golf tees. Overall, this was a great activity for patterns, but it was also a fabulous fine motor activity, so both of my kids got lots of learning.
Other Posts You Might Like
[hr top]
We've found some fun people with great linky parties. You might just see this post linked up on one of these amazing sites!
No Time for Flashcards, Train Up a Child, Teach Beside Me, 1+1+1=1, Living Montessori Now, In Lieu of Preschool, ABC & 123, Sun Scholars, All Our Days, Frogs and Snails and Puppy Dog Tails, Homeschool Creations, 123 Homeschool 4 Me, Teaching Mama.