Where are some cut and paste pages I can use with my preschooler to help his or her fine motor skills?
The cut and paste preschool series has officially come to an end. It has been so fun for me to create lots of fun cut and paste activities for Little Bear. I have learned a lot about Little Bear's preferences and I have seen his fine motor skills improve dramatically. Honestly, I am surprised at how a few cut and paste activities (and some cut, paste, and color pages) it took to help Little Bear's fine motor skills.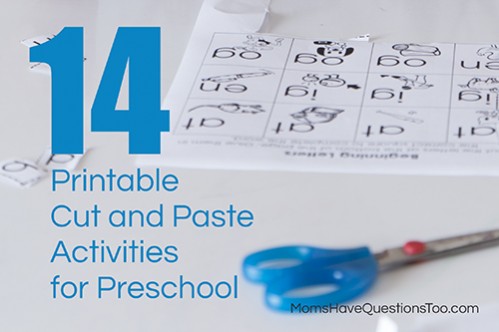 Here is a roundup of all the cut and paste pages from the whole cut and paste series from Moms Have Questions Too.
Here are some links to other websites that have great cut and paste activities for preschool. Let us know in the comments if you find any new ones!
Hopefully these are enough cut and paste pages to keep your preschooler busy for awhile. I tried to include as many free printables as possible, but I did find one paid set (the alphabet book) that was too good to pass up. Enjoy all of the cut and paste worksheets!
*Want to see more themed activities like this for toddlers or preschoolers? Check out our store page where our toddler and preschool series are compiled into Activity Packs for only $1.99! The Activity Packs are full of lesson plans, printables, and a curriculum guide.