What is a pretty holiday craft I can make using items from the dollar store?
I saw this awesome idea on Pinterest to make confetti tumblers and I couldn't resist trying it out. However, with the Christmas season here, I wanted to make them a bit more festive. I also couldn't resist checking out the dollar store for supplies, and when I saw that the dollar store had all the items I needed to make these, this post turned into a dollar store finds post.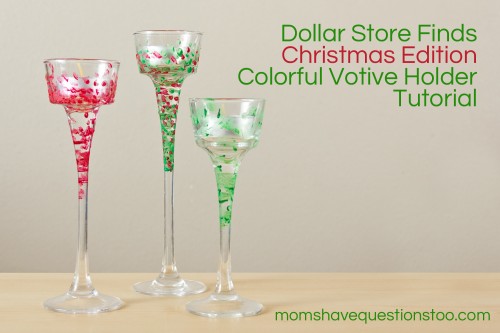 Dollar Store Items Used:
Paint tubs (1)
Glass Votive Holders (3)
Pack of 8 tea lights (apples and cinnamon scented)
I spent $5 total and ended up with three Christmas-y confetti candles. Start out by following the directions for these confetti glasses that are on the blog Radical Possibility. She suggests using acrylic paint and a sealer. Since I didn't have those things on hand and since I wanted to make this project as cheap as possible, I used paint from the dollar store and some clear nail polish.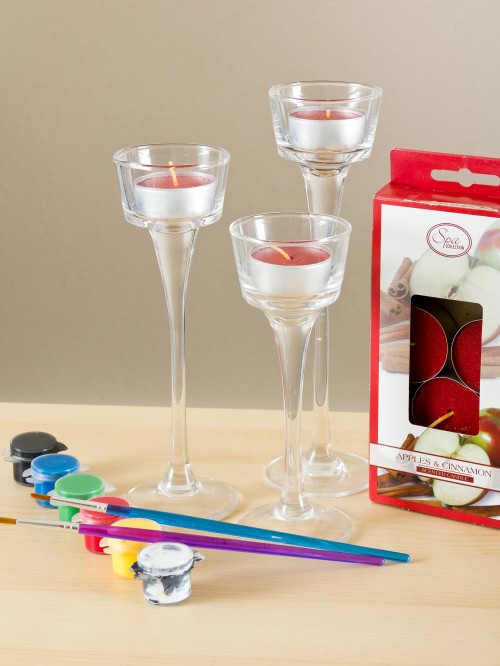 Besides using dollar store paint I followed all the directions for making the confetti tumblers. I made a red one, and a red and green one. Little Bear made a green one. Yes, Little Bear did help with this project and no, his didn't turn out nearly as picturesque as mine. But, he did love doing it and he is very proud of his project. I think that's much more important than perfectly picturesque votive holders.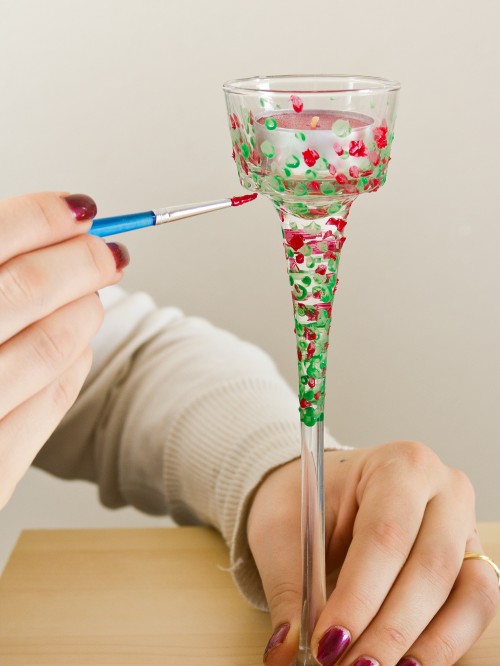 When the paint was all dry, we used a sealer that was suggested in the comments (clear nail polish ;) ). I figured since these are candle holders, not drinking cups, the clear nail polish would work fine.
Next, we one tea light candle into each confetti holders and lit them. Right now they live on our kitchen table and they look quite festive there. To be honest,these don't have much of a scent. :( Still, they look very Christmas-y and they were only a dollar! That, of course, is always the best part of these dollar store finds.