What is an easy but delicious holiday treat I can make with my kids?
Let me guess… You are going to a holiday party sometime soon and you need to bring a treat. You don't want it to be too expensive or take too long but you want it to be so delicious right? Well, I have just the thing for you! I eat way more of these than I should. I love hugs and I love salt (especially pretzel salt) and the combination of the two are wonderful! It's probably a good thing I don't have any of these items at my house on a regular basis or I would have some major health problems I'm sure. Not that I don't eat a lot of sugar anyway… Well, you should definitely give these a try! They are delicious and make a great party treat.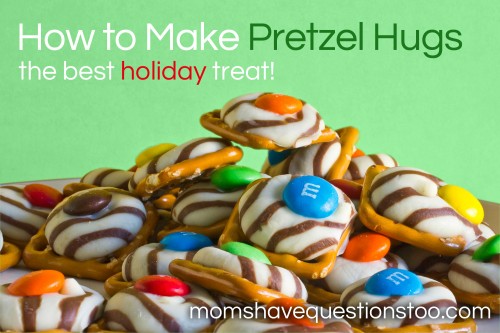 Pretzel Hugs
1 bag pretzels
1 bag M&Ms (use a Christmas variety to make them a little more festive)
1 bag Hershey Hugs
Spread pretzels on baking sheet. Place a Hug on each pretzel and bake on 250 degrees for about 4 minutes. (Watch closely and take out of the oven just when hugs have started to melt, but are still holding their shape.) Remove
from oven and promptly place a M&M on each hug. Chill completely before serving.
Kids love helping make these! They can help with just about every step: spread out the pretzels, unwrap the hugs, put the hugs on the pretzels, put an M&M on the hug once they come out of the oven (just make sure they don't touch the hot baking sheet). You will love making (and eating) these with your kids!