With Easter so early this year, March is full of holiday stuff. I usually only do holiday-themed tot trays once a month (I change the tot trays every two weeks), but with Easter coming up so soon, I had to do the Easter trays right after the St. Patrick's Day trays. That means that there will be no holiday trays in April, but I'm sure Smiley Man won't mind. He loves doing tot school and I am constantly amazed by what he can accomplish. I usually think a tot tray will be too hard for my young toddler, but then he'll impress me and be able to do it. Plus, he really likes having his own "school" to do. I think it makes him feel very important.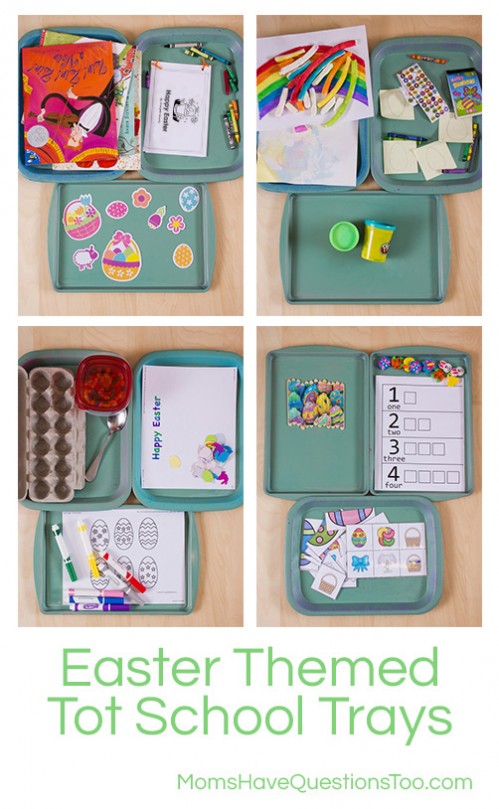 Erasers on counting Sheet
This tray had a math sticker sheet and some Easter erasers. I got the sticker sheet from Confessions of a Homeschooler. It's on her Math Printables page and it's called 1-10 sticker sheet. I printed it at 130% so that the squares would be big enough for the erasers that I bought from the dollar store. To complete this activity, Smiley Man simply puts one eraser on each square. He only did numbers 1-4.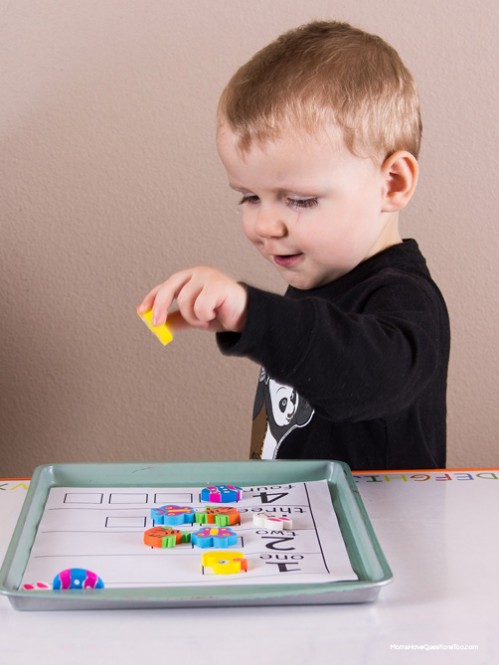 Markers to Color Easter Egg Coloring Sheet
This tot tray had markers and an Easter egg coloring sheet. The main activity is opening and closing the markers (it's a great fine motor skill), but Smiley Man doesn't know that. :) He just likes coloring with markers.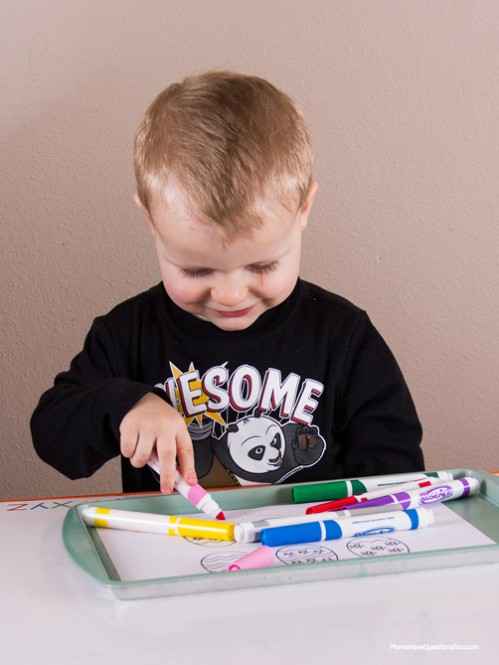 Easter Magnets
I found a pack of these awesome Easter magnets from the dollar store and knew they would be perfect for tot school. I opened the package, put a few magnets on a metal cookie sheet and Smiley Man enjoyed the magnets immensely.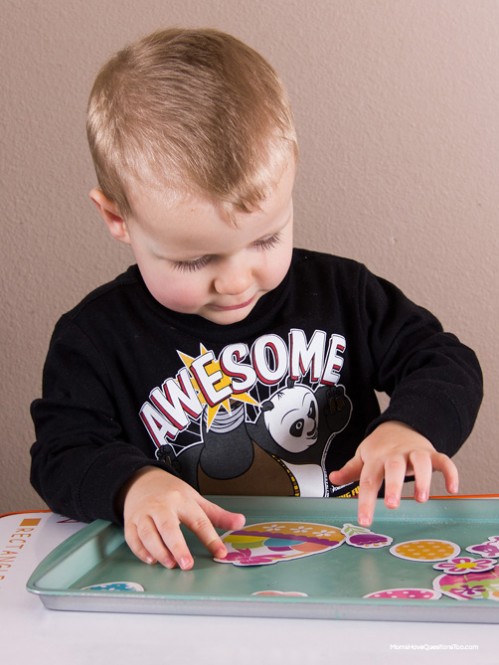 Spoon Jellybeans into an Egg Carton
This tot tray was supposed to be very simple. Smiley Man was supposed to spoon jelly beans into an empty egg carton. He did well with it until he wanted to eat a jellybean (which was basically right away). Eventually I just replaced the jellybeans with regular beans and the activity went much better.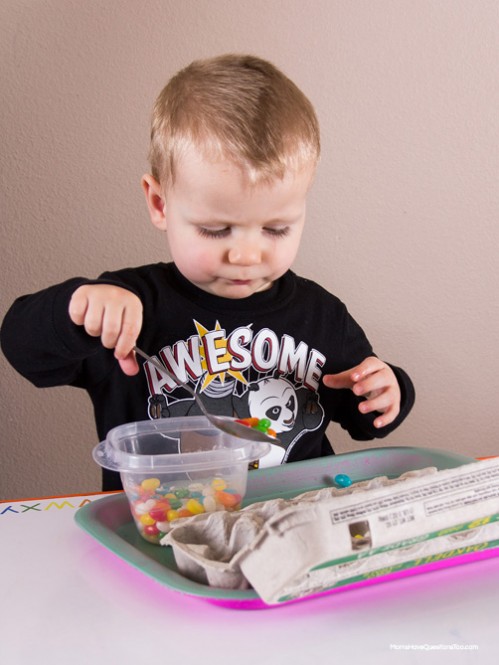 Stickers
This tray has some Easter stickers from the dollar store and a blank piece of paper. I did have to help Smiley Man get the backing off some of the stickers, but he still really liked this tray.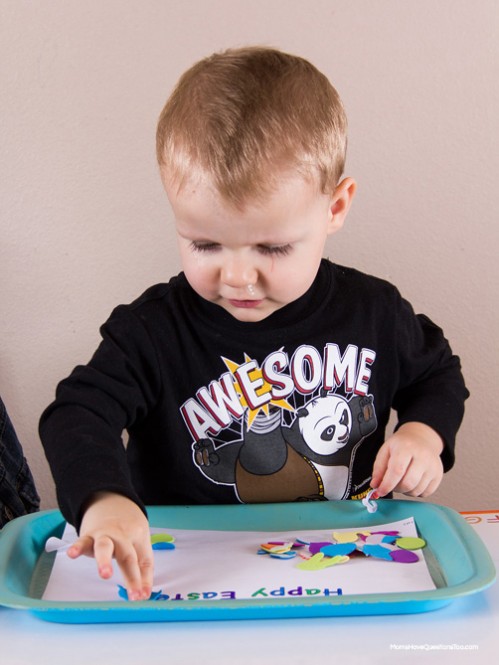 Color Game 11
(Each color game is only on the tray for one week. The rest of the activities are on the trays for two weeks. That means I go through two color games, but only one of all the other activities.)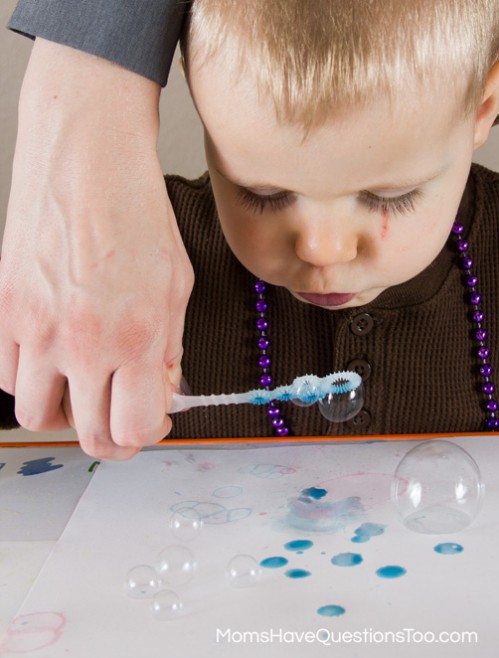 Color Game 12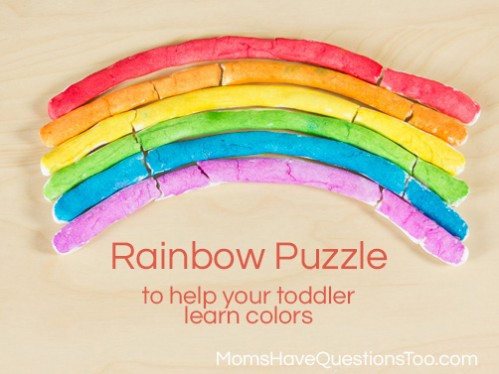 Easter Tot Book
I read this book at least once during the time that these trays are out. If Smiley Man uses this tray while I am working with Little Bear, he can color the pictures or just look at the pictures as he turns the pages. I do not in any way expect Smiley Man to learn how to read by looking at this book. This book is simply for exposure to words and letters and concepts of print.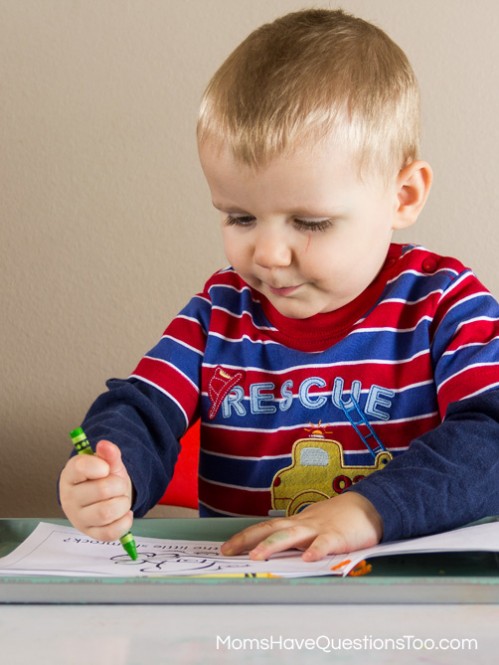 Printables
Easter Egg 2 part puzzles (Easter tot pack page 5), Matching Puzzle (Easter tot pack page 13).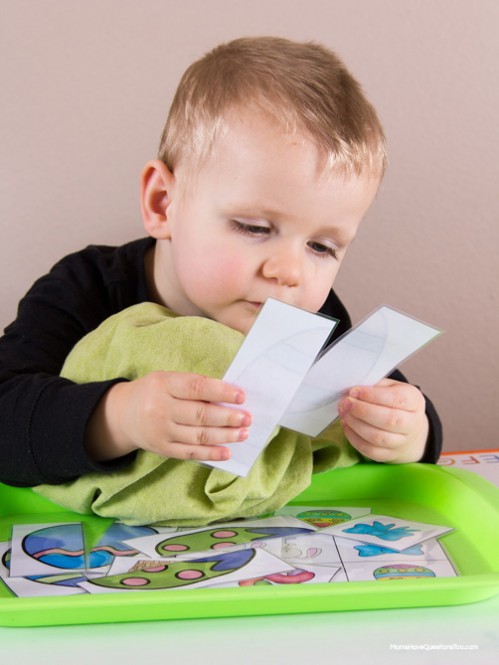 Featured Toy
Playdough. Smiley Man always wants to play with playdough so I thought putting it on a tot tray would be a perfect excuse to play with it more. Smiley Man asks to play with this tray a lot. It may be his favorite tray which is nice because it was the easiest to put together. I just put two playdough containers on the tray!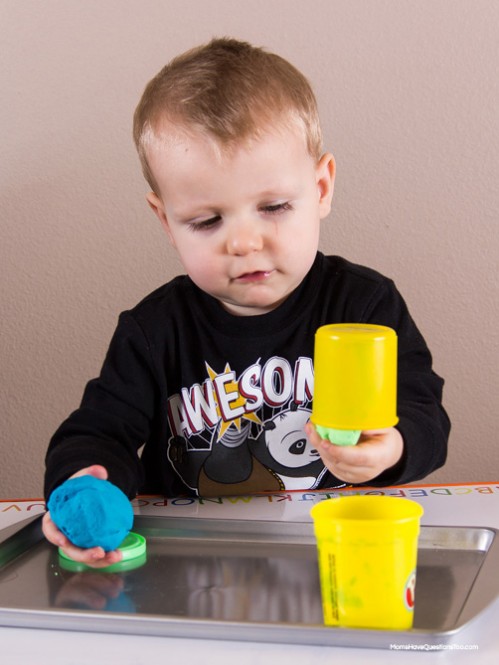 Themed Books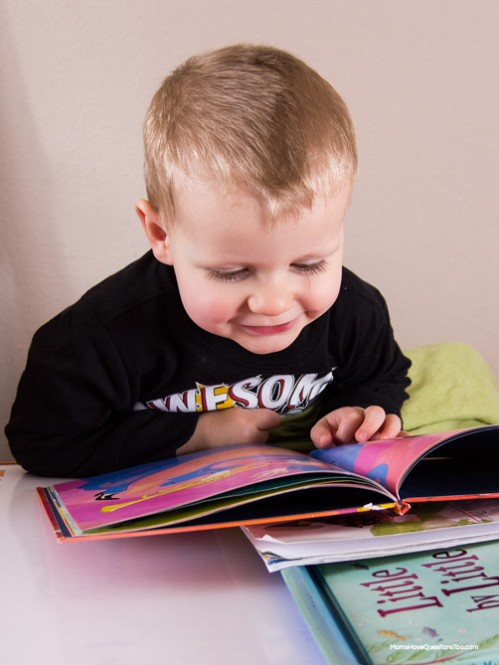 Popsicle Stick Easter Puzzle
This tot tray has a popsicle stick Easter puzzle. Here is a great tutorial for making one. I found the image by searching Easter eggs on Google images and I used my homemade mod podge to make the puzzle.This puzzle was definitely too hard for Smiley to do on his own, but he loves playing with popsicle sticks so this tray was still a hit.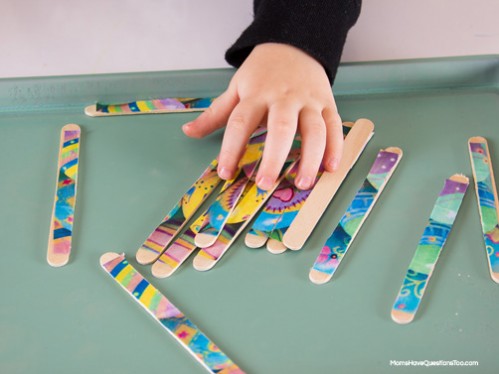 Decorate Post-It Note Eggs
I drew a bunch of egg outlines on post-it notes and stuck them to Smiley Man's tot tray. I also included crayons and stickers on the tray. This was another fun way for Smiley to decorate Easter eggs. I also like it because it took some fine motor skills and extra concentration to color on the post-it notes.