Our toddler school for these two weeks is all about spring. Spring has been brimming all around us and this was a great way for Smiley Man to have some toddler school activities that were related to all the spring changes around us. Without further ado, here are the spring tot trays.
Smiley Man is 23 months old.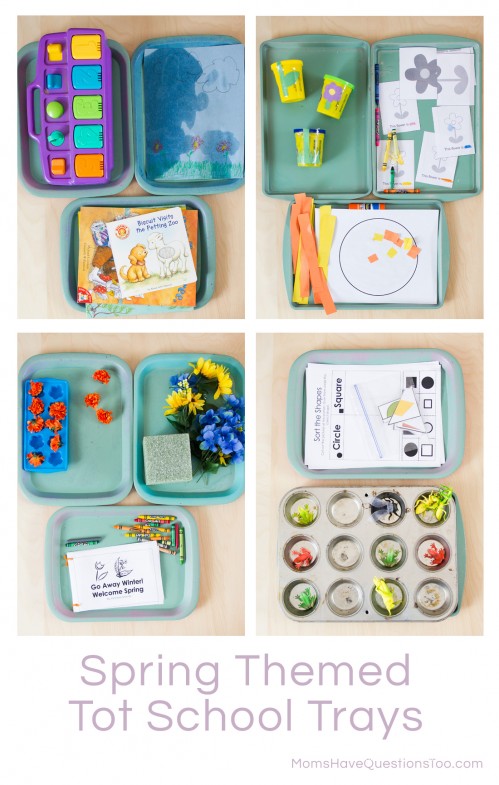 Button Snake
Well, this one I never actually made. :( I was really excited about it, but the past few weeks have been crazy and somehow I didn't realize this one was missing until Cassidy and I were taking pictures of the tot trays. Instead I will provide you with some awesome links that show you how to make a button snake. Awesome tutorial here, another great tutorial here, and a button snake here that you can buy from etsy.
Torn Paper Sun
To see instructions for this activity check out our paper candy corn and pumpkin craft. We did this one the same way, but with a circle outline for the sun and yellow and orange construction paper.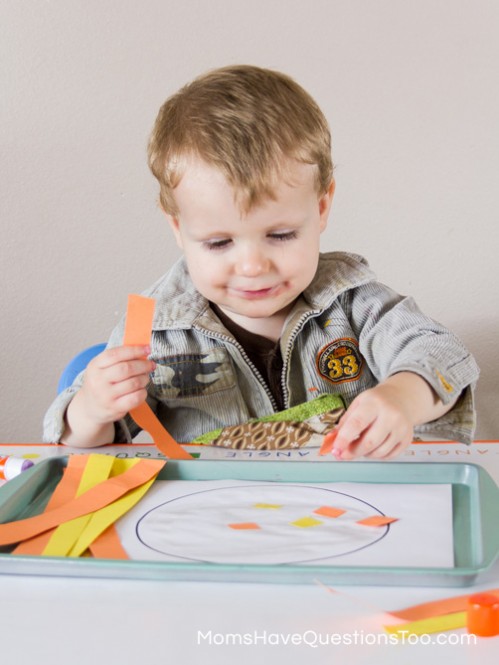 Vertical Flower Puzzle
I made a flower with construction paper and it covered three playdough containers when they were stacked. The tray just had the play-doh containers and Smiley had to stack them in the right order to make the flower.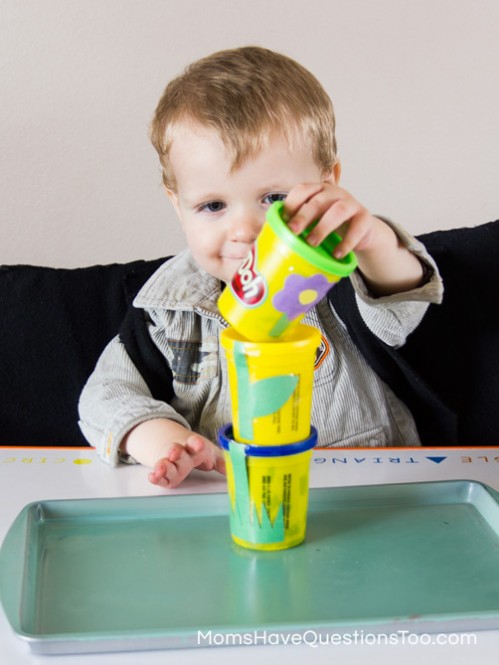 Flowers in Ice Cube Tray
I got these flowers and the cute ice cube tray from the dollar store. I just pulled the flowers off of their stems and Smiley Man practiced his one-to-one correspondence and put one flower into each ice cube tray opening. By the way, the ice cube tray openings look like flowers so of course that made me feel extra clever. ;)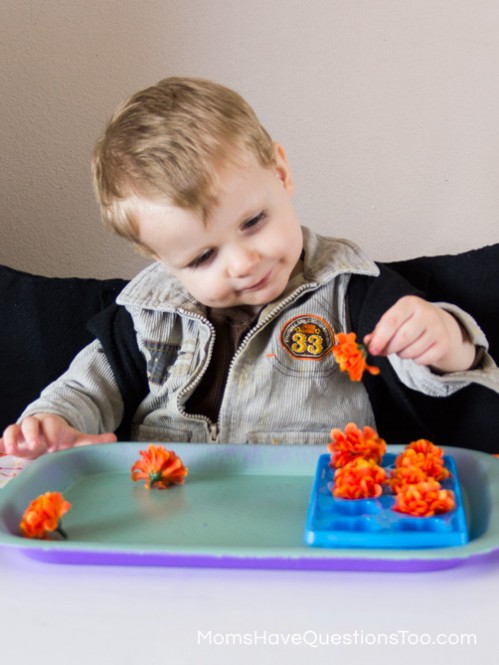 Flower Arranging
I was worried Smiley Man wouldn't be interested in this tray because he is a ball and bugs kind of boy, but this ended up being his favorite tray of all! I got the flowers from the dollar store and cut each flower so it had its own stem. Then I put them on a tray with some Styrofoam. Smiley Man loved putting the flowers into the Styrofoam!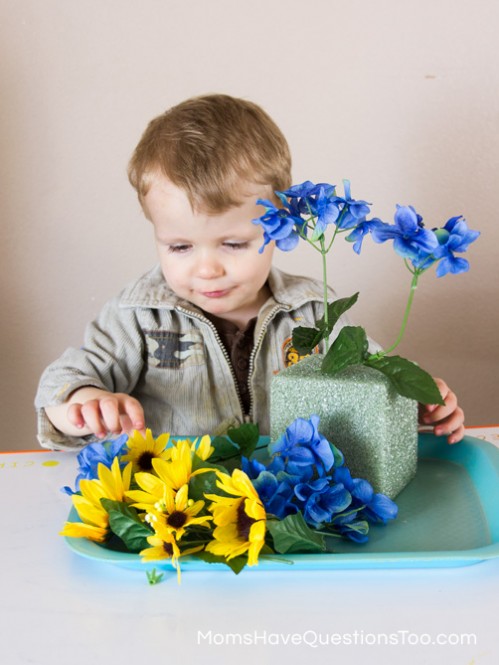 Shape Activity 5
(Each shape activity is only on the tray for one week. The rest of the activities are on the trays for two weeks. That means I go through two shape activity, but only one of all the other activities.)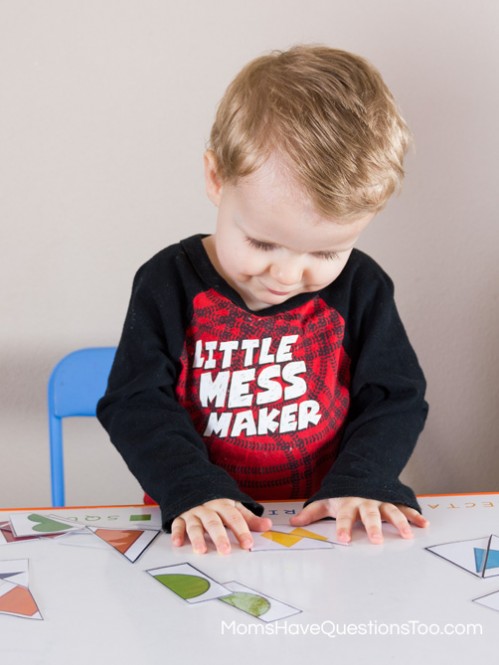 Shape Activity 6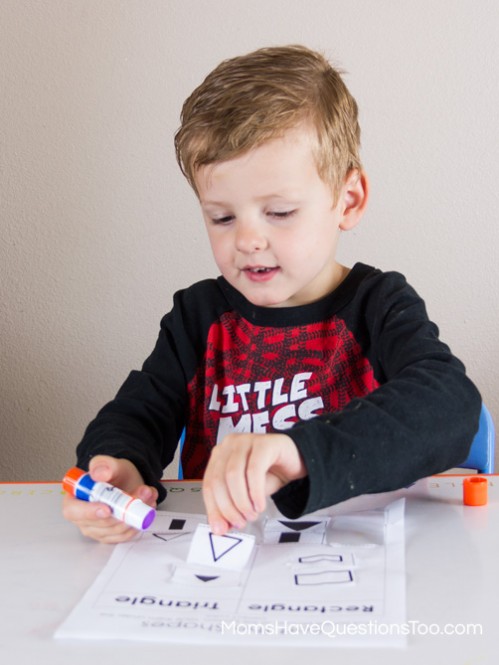 Spring Tot Book
I read this book at least once during the time that these trays are out. If Smiley Man uses this tray while I am working with Little Bear, he can color the pictures or just look at the pictures as he turns the pages. I do not in any way expect Smiley Man to learn how to read by looking at this book. This book is simply for exposure to words and letters and concepts of print.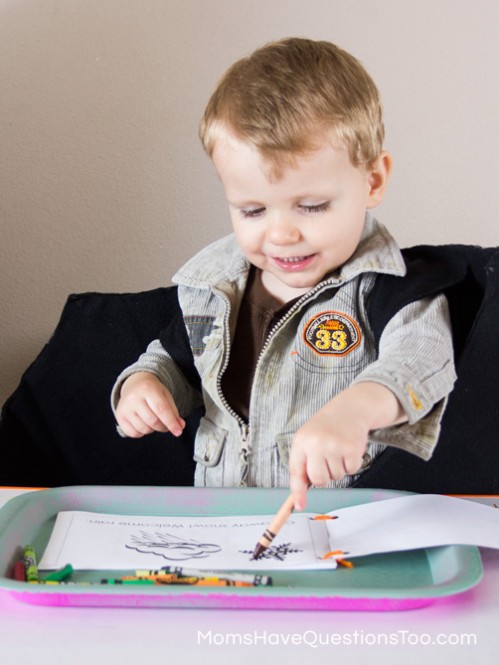 Printables
Flower 2 part puzzles (Spring tot pack page 10), Coloring Flowers (Spring tot pack pages 11-13).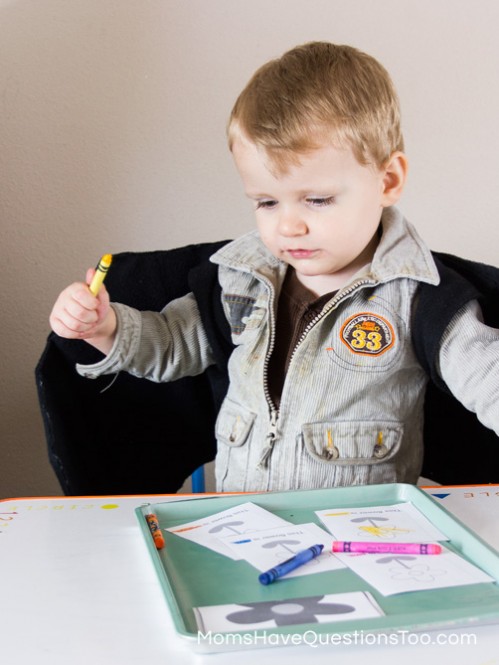 Featured Toy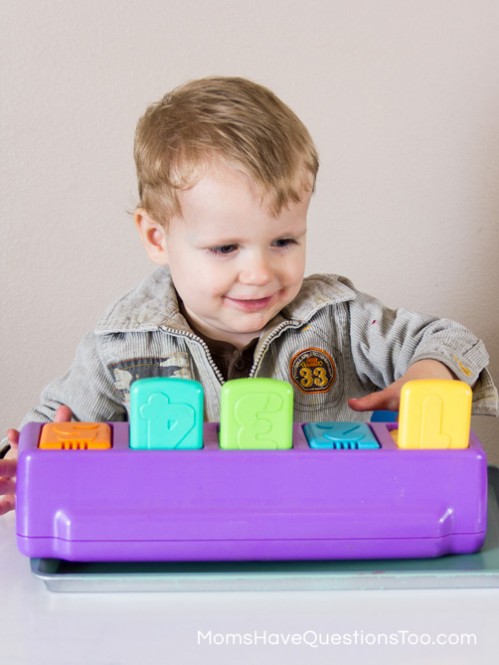 Themed Books
It's Spring! by: Susan Swan
Mouse's First Spring by: Lauren Thompson
Marley: Marley Springs Ahead by: John Grogan
Spring is Here! by: Heidi Pross Gray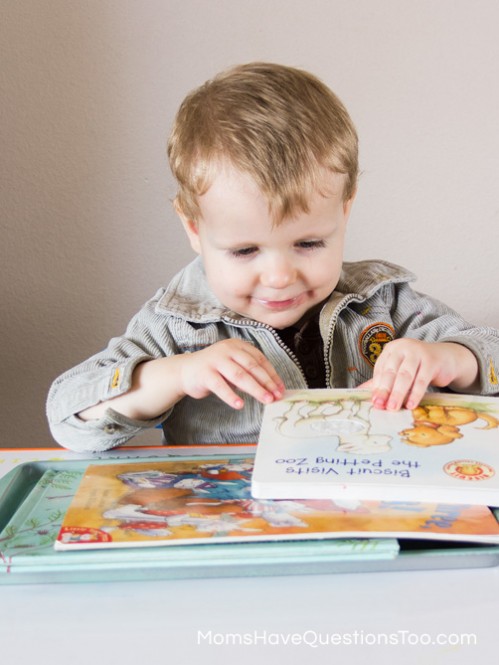 Water Painting Rain
This tot tray had a picture on blue construction paper with clouds at the top and flowers at the bottom. There was also a small container of water and a paintbrush. The idea is to paint rain onto the picture using the water.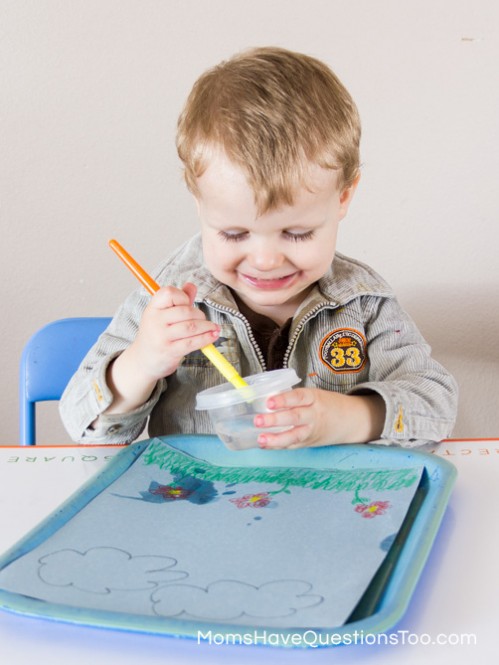 Muffin Tin and Bugs
On the tot tray was a muffin and several bugs, frogs, and butterflies. This was another tray for Smiley to practice one-to-one correspondence. Smiley took the objects and put one into each opening in the muffin tin.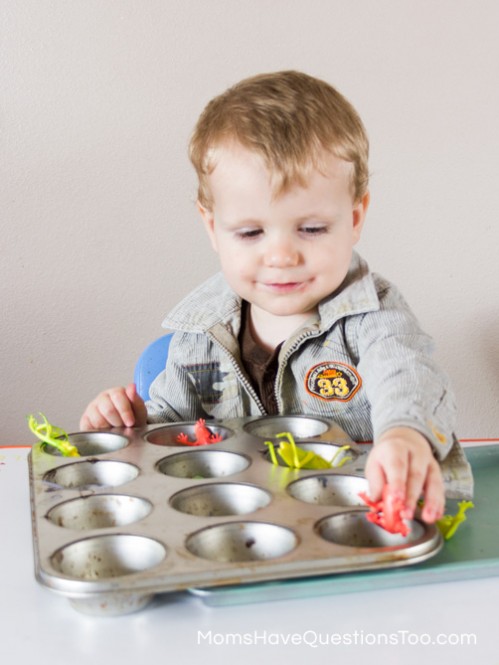 I am so excited about how much Smiley Man is learning. We have only been doing toddler school since January and already Smiley has learned so much about one-to-one correspondence, colors, shapes, and his fine motor skills have improved dramatically. I am so grateful for the Montessori inspired materials that we use and for the fact that I know my toddler will be ready for school when that time comes. Have your toddlers been learning as much as mine?
[hr top]