Little Bear really likes to play on the computer. I'm a bit of stickler when it comes to computer playing, so I really only let him play on the computer if he is learning something. There are so many online educational websites out there today and honestly, a lot of them are pretty lame. Over time I have found some great ones and today I am going to share with you what I think are the top 5 online learning websites for preschoolers. They are in order and the best ones are last, so be sure to go all the way to the bottom for the best online learning websites. Let me know if you have any other website that your preschooler loves. I'd love to find some more.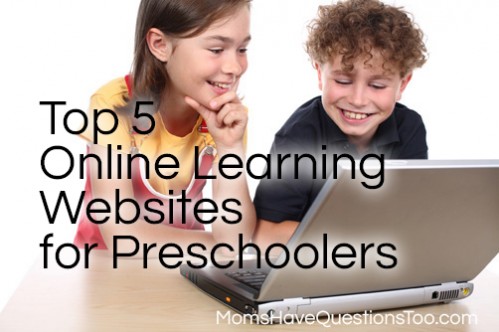 What is it?
Mighty Book is a fun website that consists mostly of online Read-Aloud books. It also has story songs, sing along songs, games, lesson plans, and more.
How much is it?
A lot of this website is available for free. There are more books, songs, etc. if you pay an annual fee. A household membership is $24.95 per year. There are also options for a single classroom, a single daycare, etc. up to a large school district with more than 10 schools.
Do I recommend it and why?
This is a pretty fun websites for preschoolers. My kids especially love the story songs and sing along songs. The games are also pretty fun, but there aren't a lot of free games. The site is fairly easy to navigate for my preschooler, but he has a hard time finding new things. I have to remind him to check out the words on the left side at the bottom of the screen. Overall, I do recommend this website and the free options are pretty good. You do get more if you pay for the website and log in, but if you are looking for something free, this website is a good option.
What is it?
Reading is Fundamental has a mission to motivate young children to read and to make reading a fun and beneficial part of everyday life. The Leading to Reading website is a place for kids to have fun playing games, reading books, and do online coloring.
How much is it?
This website is completely free as far as I can tell.
Do I recommend it and why?
This website is extremely easy to navigate. There is a babies and toddlers section as well as a preschoolers section. It says any words that you hover over so that your preschooler can figure out what to click on without actually having to click on it. There are about 12 online books available for your child to watch. They usually make the books fun with music. They also have some singing books which are really fun. The games on the website are not the greatest in the world, but Little Bear enjoys them. Overall this is a great online learning site and it is completely free.
What is it?
Literacy Center has free, professionally designed education material for preschool-aged children. It is an educational website with fun games and activities for letters, shapes, writing, words, numbers, and colors.
How much is it?
This online learning site is completely free.
Do I recommend it and why?
I definitely recommend this website. It is very easy to navigate and has lots of fun activities that are great for my preschooler. Some of the spelling games are just a little too hard for my Little Bear, but he still has a great time playing around on this website. In fact, he has learned how to spell a few color words just through trial and error. I think this website is great.
Starfall (#1 free educational website)
What is it?
Starfall is a free educational site that teaches children to read with phonics. There is a systematic phonics approach, in conjunction with phonemic awareness practice and it is perfect for preschool and Kindergarten.
How much is it?
Much of the website is completely free. It costs $70 for one year to access full content on the website. You can also pay for 3 months at a time which is $18.
Do I recommend it and why?
This is absolutely my favorite online learning website by far. It is very easy to navigate. It has great activities that actually help with reading and learning. It is compelling and fun to play. Little Bear loves playing the Kindergarten math activities even though they are well above his math level. Even though he doesn't completely understand the activities, he still loves playing them. Plus, the more he plays them, the more he understands them. If your preschooler loves this website as much as mine, I recommend paying for a year membership. However, even if you only use the content that is free, your preschooler is sure to have a blast and learn some things.
ABC Mouse (#1 paid educational website)
What is it?
ABC Mouse is an online learning academy with a full curriculum that is appropriate for ages 3-6. It is perfect for parents that want their children to learn without having to pay for a preschool. There is a step-by-step learning path with 6 levels and all activities are progressive.
How much is it?
ABC Mouse costs $7.95 a month or $79 for a year. There is no free content.
Do I recommend it and why?
This website is very educational and will definitely provide lots of learning for your child. It is very easy to navigate and really fun for kids. If you want a full preschool curriculum (or you just want to supplement the curriculum your child gets at his preschool), then this website is perfect. It does cost money, but you can add up to three children for the same price. I do recommend this website because there is so much learning. If you are looking for something very educational and not necessarily free, this is the website I would recommend this most.
One last thing, this post is not sponsored in any way and I will receive no compensation if you sign up with any of these websites. I just wanted to give you an honest review of some good online learning websites.