Cut and paste activities are really helpful for Little Bear right now. He needs lots of cutting practice and practice using a glue stick. Unfortunately, he doesn't exactly love cut and paste activities. That means it is up to me to think of fun activities that he will enjoy cutting and pasting. A few days ago we did this Christmas tree shapes cut and paste activity. Little Bear enjoyed that so I thought I would come up with something similar.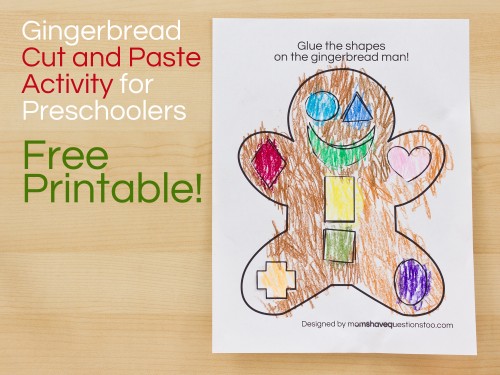 I made up this gingerbread man cut and paste and honestly, Little Bear was more excited than I thought he would be. He has been loving the Gingerbread Man story and has been saying "Run, run, run as fast as you can; you can't catch me, I'm the gingerbread man!" basically everywhere we go. He was way excited about the gingerbread man, but not as excited about the cutting and pasting.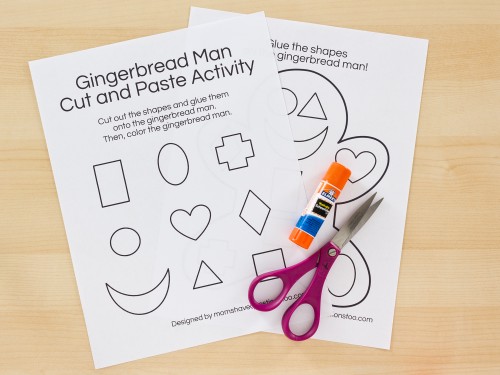 I quickly thought of a way to remedy his dislike. I started saying "Cut, cut, cut as fast as you can; I can't catch you, you're the Little Bear Man!" Little Bear laughed and laughed and he started saying it too. He also started cutting. His pieces were not perfectly cut, but each time we do a cut and paste activity, he gets a little bit better.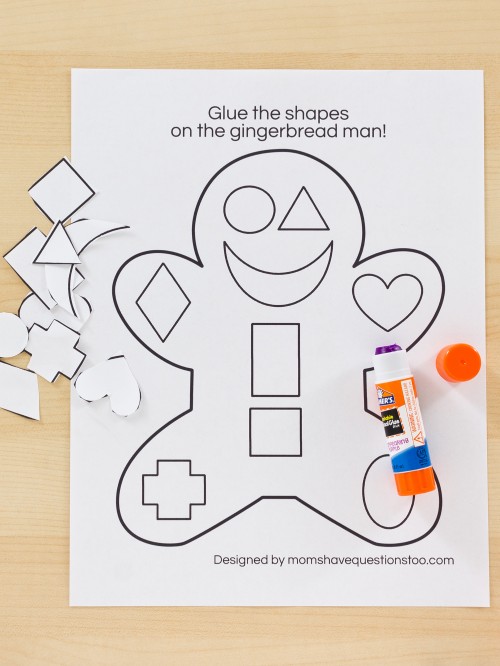 When he was finished cutting out all of the pieces, I had him name each of the shapes. He has known his shapes for a long time now, but I think they are one of those things that we need to keep reviewing. He then glued each shape onto its matching shape on the gingerbread man. Once everything was all cut and glued, he finally got to color the gingerbread man. I explained that gingerbread is brown and that the eyes and buttons could all be different colors. He kind of had his own interpretation, but at least he was creative. :)