What can I do for toddler school that will teach my tot about bugs?
I was so excited to put these trays together. I have two boys so bugs were a natural choice for a tot school theme. Little Bear has already been bug hunting and telling me all about the grasshoppers and beetles outside. I'm definitely excited to now introduce my toddler to the world of bugs. Luckily, he has really enjoyed these tot trays so far.
Smiley Man is 24 months old.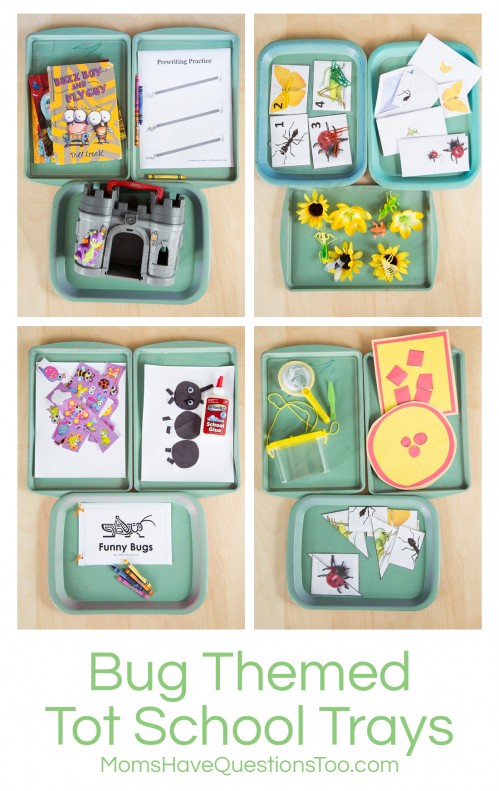 2 Part Bug Puzzles
I made some simple 2 part bug puzzles which you can download for free. I printed them, cut them, and laminated them for durability. These 2 part puzzles are still just a bit too difficult for Smiley Man, but they are great practice for toddler school nonetheless.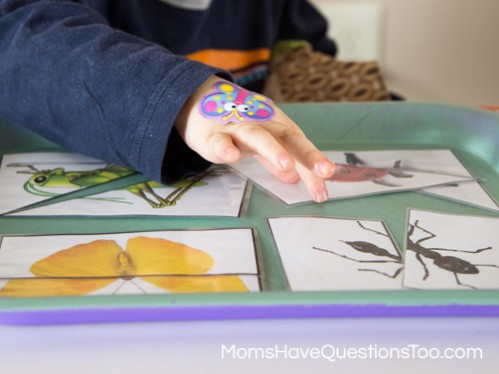 Ant Craft
This tray has an outline of an ant on regular white paper. There are also black construction paper circles (for the body), long rectangles (for the antennae), small rectangles (for the legs), and some googly eyes. There is also a glue bottle. The idea is for Smiley Man to match the black construction pieces to the right place on the white paper, then use glue to attach them.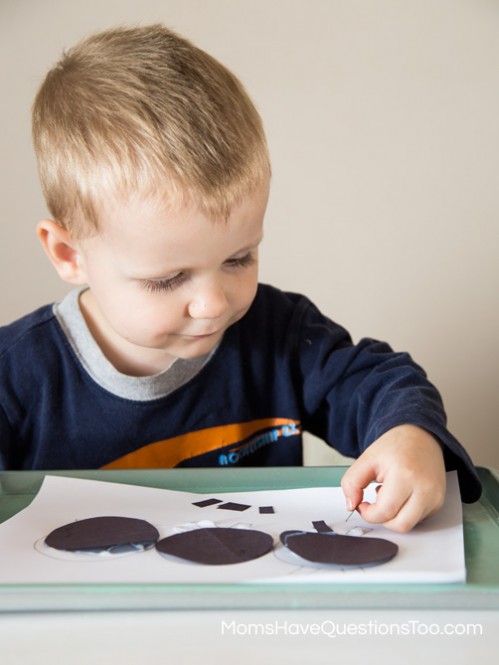 Bug and Flower 1:1 Correspondence
This tray has some plastic bugs (from the dollar store) and some flowers (also from the dollar store). Smiley Man is supposed to put one bug onto the top of each flower. This activity helps with one to one correspondence. This is a wonderful Montessori activity for toddlers especially if you use tongs to pick up the bugs. Smiley isn't quite ready for tongs (I've tried), but he will be soon!
Bug Stickers
This tray just has some cool bug stickers and some paper. Some of the stickers have 3D googly eyes on them, which Smiley LOVED! Smiley Man really likes playing with stickers which is great because they really practice his fine motor skills.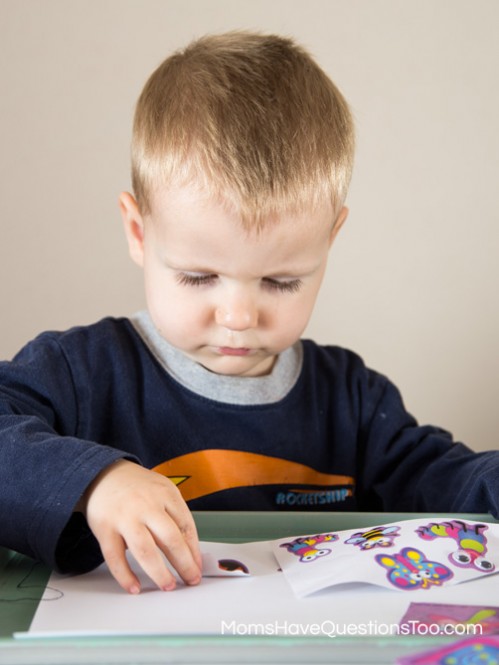 Paperclips onto Number Cards
This tot tray has some bug number cards that I made and that you can have for free. :) It also has enough paperclips to correspond with each number card. I also made the paperclips color coordinate, but that is purely optional. Smiley Man is supposed to put the same number of paperclips as is printed on the card. If you have an older toddler, I would definitely have your child actually clip the paperclips onto the card. For now, I just had Smiley Man place the paperclips on top of the cards, but we'll see how he does by the end of these two weeks with the bug tot trays.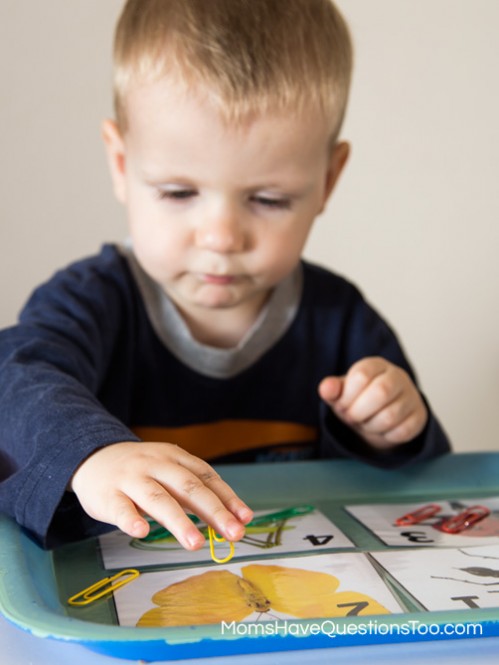 Shape Activity 9
(Each shape activity is only on the tray for one week. The rest of the activities are on the trays for two weeks. That means I go through two shape activity, but only one of all the other activities.)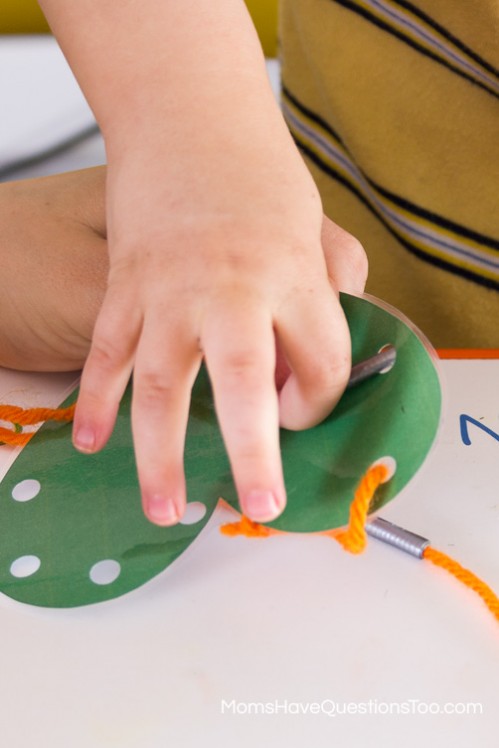 Shape Activity 10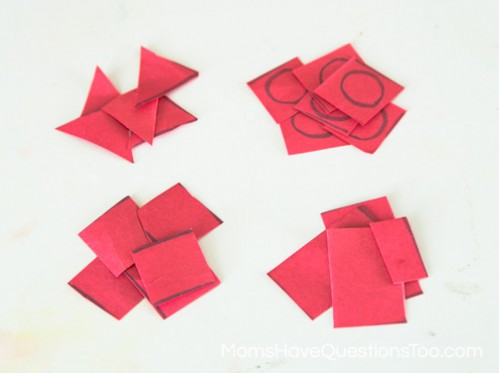 Bug Tot Book
I read this book at least once during the time that these trays are out. If Smiley Man uses this tray while I am working with Little Bear, he can color the pictures or just look at the pictures as he turns the pages. I do not in any way expect Smiley Man to learn how to read by looking at this book. This book is simply for exposure to words and letters and concepts of print.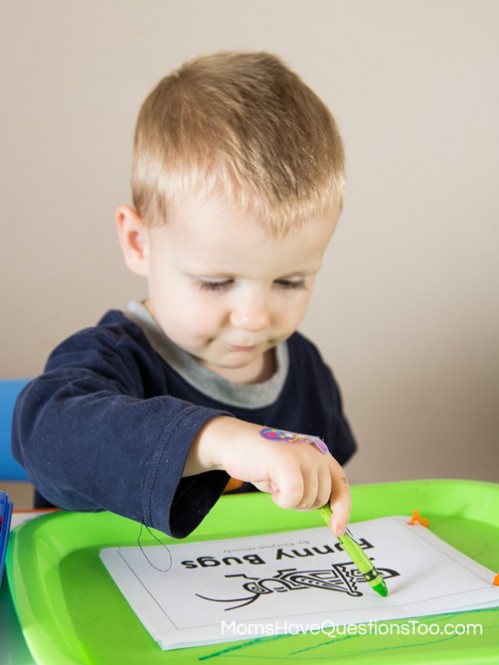 Printables
Bug Puzzles (Bug tot pack pg. 5), Pre-Writing Practice (Bug tot pack pg. 4).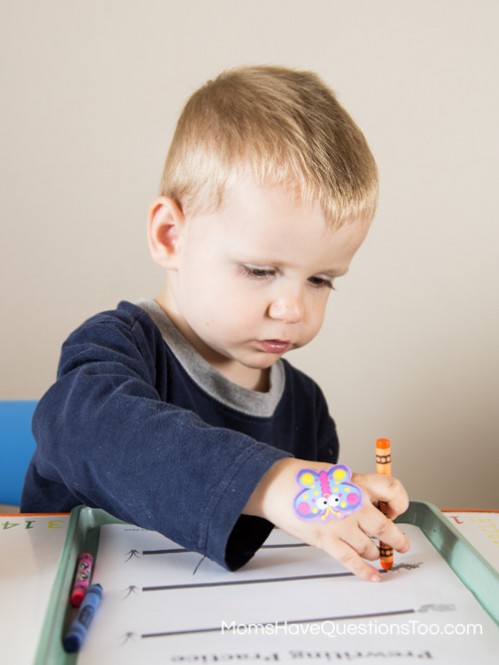 Featured Toy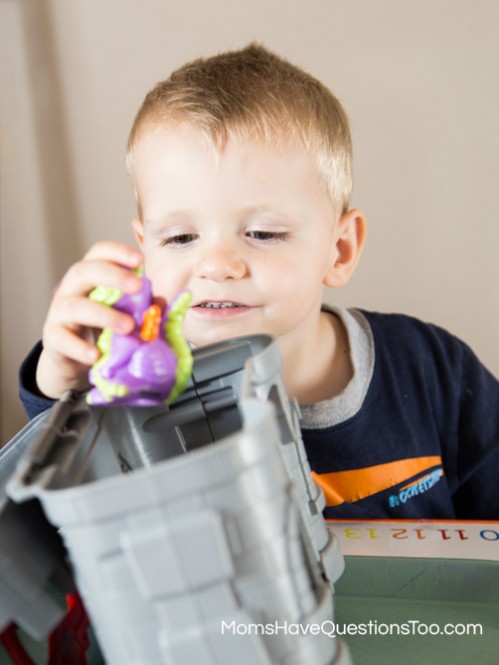 Themed Books
Little Ladybug by: Chronicle Books
Bugs! Bugs! Bugs! by: Bob Barner
I Like Bugs by: Lorena Siminovich
Big Bug, Little Bug by: Paul Stickland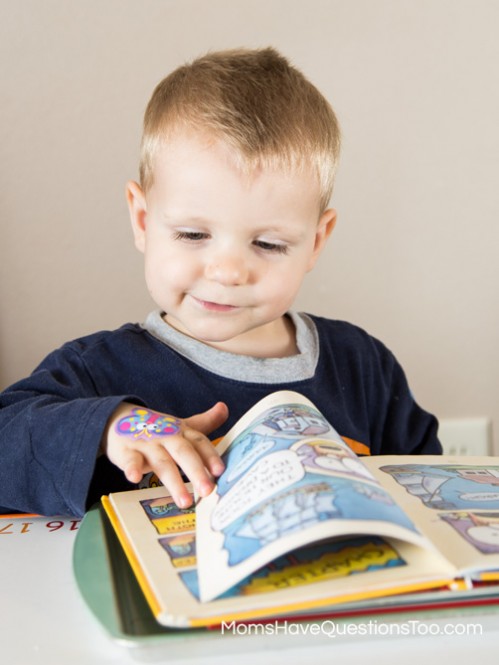 Bug Hunt Kit
I found this cool bug hunt kit from the dollar store and I put it on a tray along with a plastic bug. At first I just had Smiley Man put the plastic bug into and out of the container, but tomorrow we are going to go on a bug hunt outside and try to find a real bug to put in the container. We'll let it go after some observation, though. ;)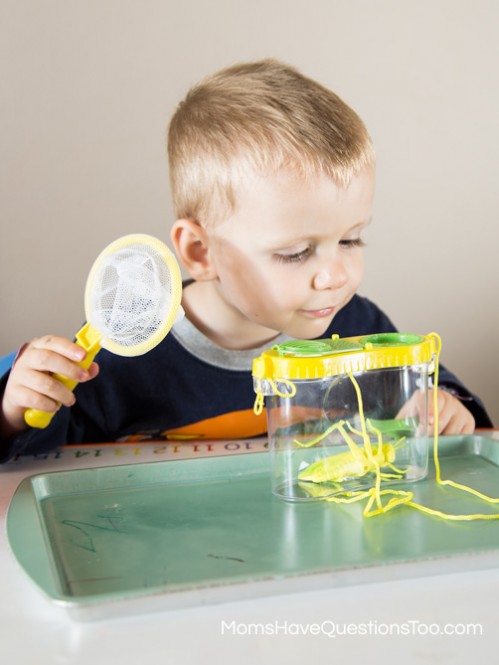 Envelope Picture Match
This tray has four laminated bug picture cards which is a free printable. It also has four envelopes with smaller bug pictures on each. To complete this tray, Smiley Man puts a bug card into the envelope that has the matching picture on front. Smiley Man isn't very good at the matching aspect of this yet, but he really loves putting the cards into the envelopes.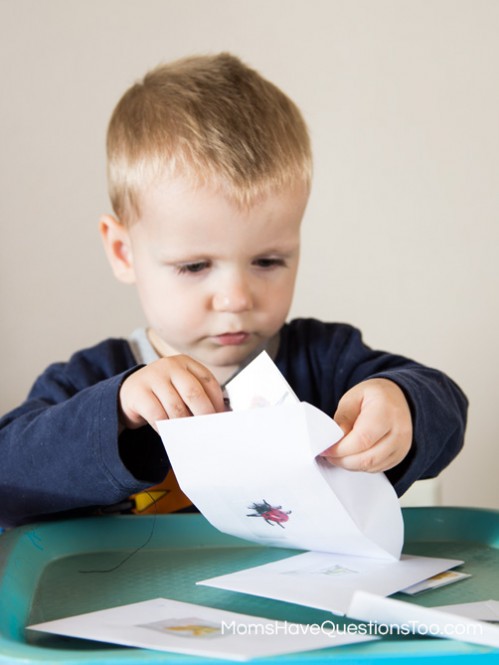 This has been a really fun set of trays so far and I'm especially excited to see how Smiley Man's interest changes after going on a bug hunt for real live bugs. Smiley Man loves doing tot school. I have enjoyed how we've being doing tot school (and have some awesome plans for June), but in July I am going to change up our tot school just a bit. So, be looking for some changes to our tot trays in July. Don't worry, I'll still have some awesome trays for you in June! :)