I've wanted to do a contact paper activity with my kids for a long time, but I didn't ever get around to it until recently. First I took a trip to the dollar store and got some supplies (pastel pipe cleaners, pastel pompoms, pastel beads, Easter stickers, craft foam, etc.)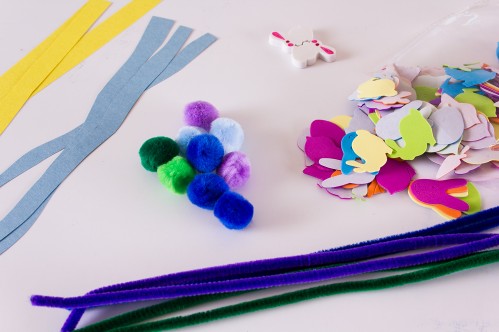 Next, I set up an invitation to play. I got this ready while Smiley Man was down for a nap and Little Bear was in his room for quiet time. I wanted it to be a surprise for them when they got up. At the end of nap/quiet time, I gathered my two boys and told them that they were going to do a fun Easter project for kids. Smiley Man just smiled, but Little Bear was pretty excited to see this Easter project.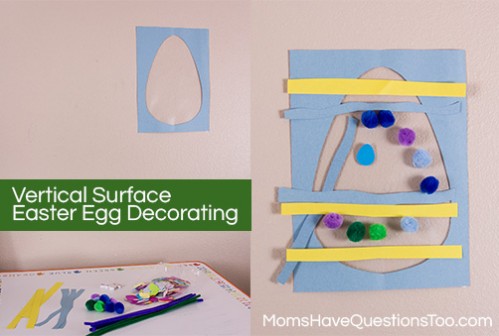 I brought the boys over to the set up and the excitement in their eyes was obvious. On the wall there were two large egg shapes made from contact paper. I put some construction paper on the edge of the contact paper just so they knew where the border was. To the side of the wall was a little table covered in things they could use to decorate their "Easter eggs."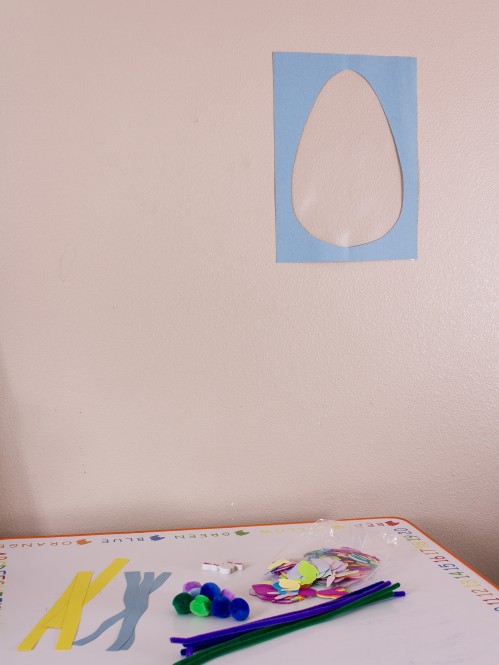 Smiley Man doesn't remember decorating Easter eggs from last Easter, but Little Bear does. He got right to work and started covering his "egg" with all kinds of things. Smiley Man followed Little Bear's lead and got right to work with some pompoms.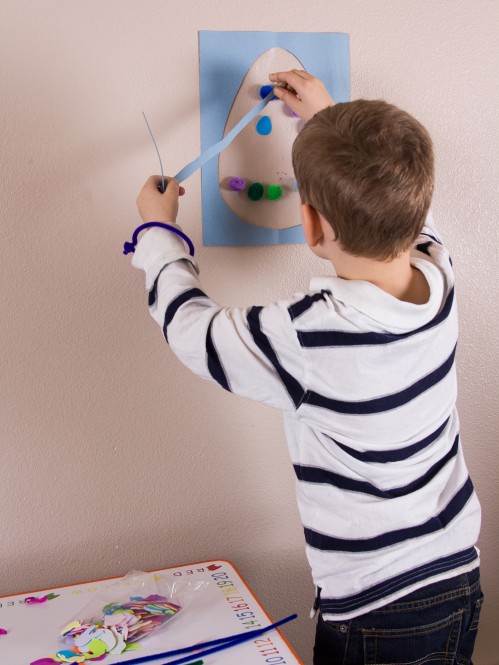 The boys loved making their own creation and not having to share eggs. Maybe I make them share too many things? ;) By the time they were finished decorating, the boys were SO proud of their creations.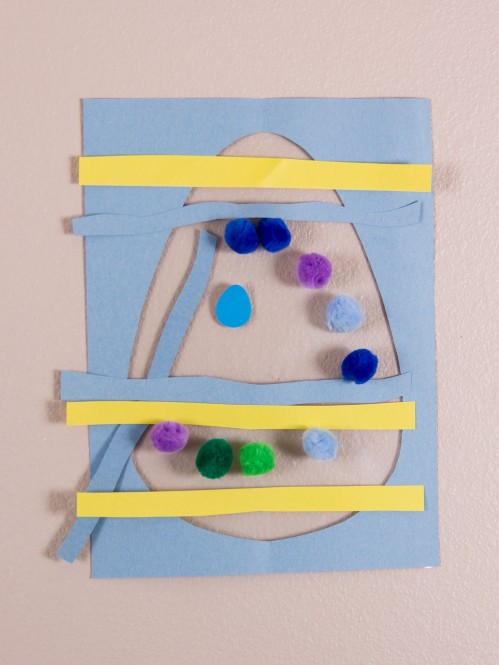 I loved that they got to do a fun Easter craft that kept them occupied while I got some cleaning done. Also, vertical surface work is a very important pre-writing activity. To be honest, I don't know, but I've read it so many times that it must be true, right. ;) I do know that doing vertical surface work strengthens the fingers in ways that simply writing doesn't. Last of all, this fun activity got my kids excited for the Easter egg dying we'll be doing soon! That is one mess that I can't wait to make. :)