What crafts and activities can I do with my toddler or preschooler this October?
I am so excited to announce the newest activity pack in our store, our Halloween Activity Pack. I may be biased, but this is the best activity pack so far! Honestly! I had so much fun creating it and my kids have LOVED using it.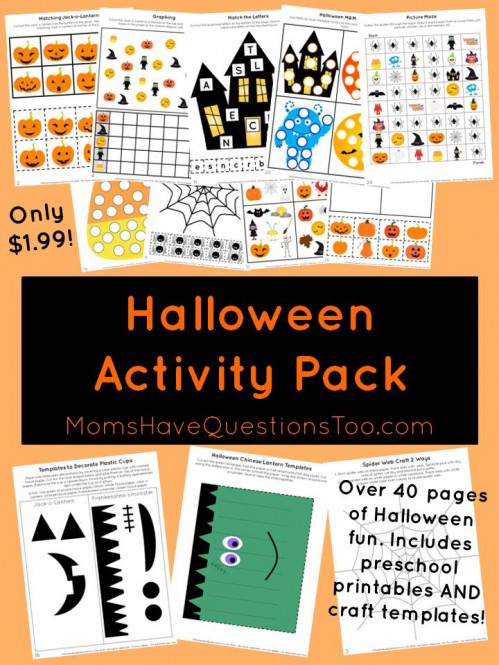 Our new Halloween Activity Pack has over 40 pages of Halloween fun. It's only $1.99 which makes it a great value. There are plenty of toddler and preschool printables with a Halloween theme as well as several craft ideas and templates. Purchase one today in our store and be sure to check out our Christmas Activity Pack as well.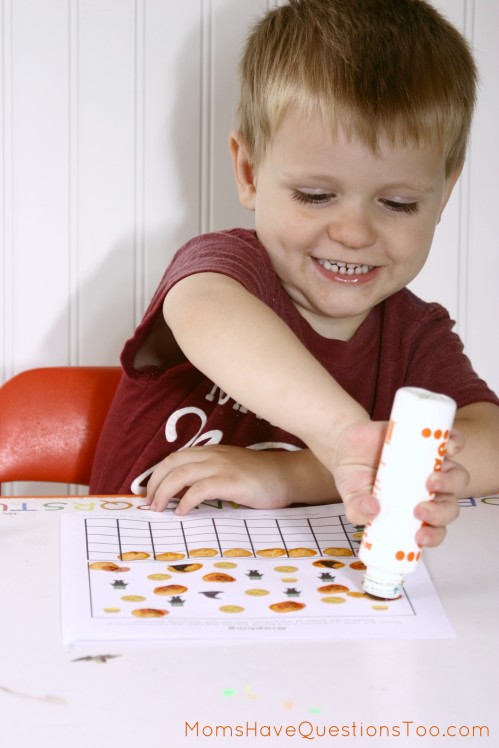 While I was creating this activity pack, Little Bear (who is 6), kept asking if he could do the activities. He doesn't really do any of the printables I create any more because they are too easy for him. Or maybe it's because he's too cool for them. Haha! Regardless, I was surprised that he wanted to do these activities. I guess even 6 year olds are drawn to cute clipart!
Activities and Crafts included in the Halloween Activity Pack
Skeleton Q-Tip Craft
Matching Jack-o-Lanterns
Spider Web Craft 2 Ways
Graphing
Popsicle Stick Puppets
Cut and Paste Counting
Halloween Collage
Paste Spiders onto the Web
Halloween I Spy Cards
Match the Letters
Halloween Chinese Lantern Templates
Roll and Cover the Numbers
Templates to Decorate Plastic Cups
Halloween Pattern Block Pages
Halloween M&M Cards
Color the Ghost
Finger Puppet Templates
Picture Maze
Letter H Maze
Sorting
Playdough Mats
Color Puzzles
Clip Cards
Size Sorting
Draw Faces on the Pumpkins
Dot Marker Pages
Shadow Matching
Number Order Puzzle

Get your Halloween activity pack for only $1.99 in our store today. Be sure to check out our other activity packs and curriculums. The Toddler Curriculum is our bestseller! If you haven't subscribed to Moms Have Questions Too, subscribe now for a copy of 10 Essential Tools for Toddler and Preschool Development.
Other Posts You Might Like