What are some toys my preschooler can play with that will also help him learn?
If you have a preschooler, then you certainly have a fair supply of toys in your house. Toys are great for entertaining children, but the right kind of toys can also help your preschooler learn. Here is my list of the top 10 toys that will help promote learning for your preschooler.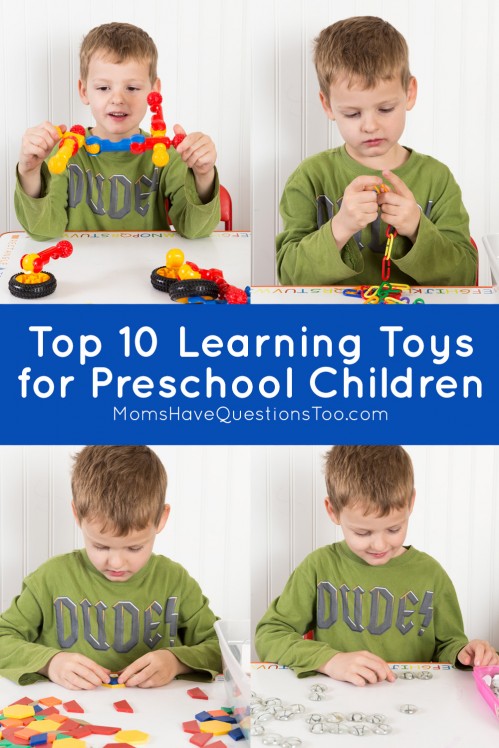 Little Bear got a set of these for Christmas last year and I am constantly amazed at the creations he comes up with.
Check out our Pattern Block Activity Pack (only $1.99!) for some awesome pattern block mats and other pattern block activities.
I bought these just to use with our preschool curriculum, but my kids have surprised me by playing with them often. Review with ways to play coming soon.
These are super fun and a great tool for a preschooler who is learning letters.
These puzzles are self-correcting which means Little Bear can entertain himself for long amounts of time sorting and putting these puzzles together.
We have never played with these, but they are on our list of toys to purchase. I love the spatial reasoning that they provide along with the building aspect.
These are great for preschoolers who aren't great at forming letters, but still want to "write." Check out our Pre-Primer Sight Word Curriculum (only $9.99 and includes tons of activities for all 30 Dolch Pre-Primer words) for more ways to use alphabet stamps.
This is a great tool for beginning spelling, but it's still simple enough for preschoolers.
We LOVE do-a-dot markers. Check out my review here.
There are way too many wonderful books out there to list them all. Reading to your child every day is one of the best ways you can teach him. Here are just a few of our favorite books for preschoolers:
Other Posts You Might Like
[hr top]
We've found some fun people with great linky parties. You might just see this post linked up on one of these amazing sites!
No Time for Flashcards, Train Up a Child, Teach Beside Me, 1+1+1=1, Living Montessori Now, In Lieu of Preschool, ABC & 123, Sun Scholars, All Our Days, Frogs and Snails and Puppy Dog Tails, Homeschool Creations, 123 Homeschool 4 Me, Teaching Mama.