Where can I find fun printables to encourage fine motor skills?
Another awesome activity pack has just been added to our store. It's only $1.99, just like all our other activity packs, and this one features cut and paste activities! It includes our ever popular Gingerbread Man cut and paste page, plus 12 other activities. This is perfect for toddlers and preschoolers who want or need some fine motor practice.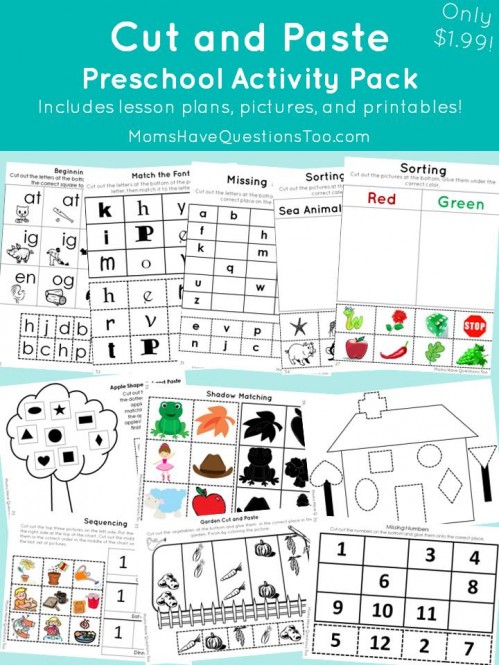 This preschool activity pack has lesson plans, pictures, and printables. The lesson plans and pictures are on separate pages so that you can print lesson plans without pictures to save on ink. All printables are at the end of the activity pack. Many of these printables are free if you are using just one or two. If you would like to download more than that, I ask that you purchase the activity pack. Plus, when you purchase the activity pack, you get 2 exclusive printables!!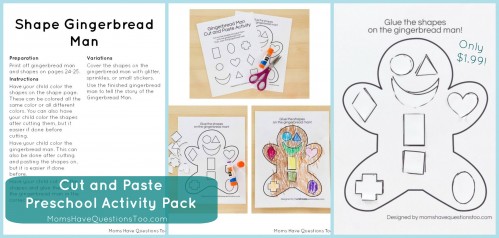 Cut and paste activities are great for fine motor. Get this cut and paste activity pack for only $1.99 [tweet this].
Activities Included in Cut and Paste Preschool Activity Pack
Shape Gingerbread Man
Shape Apple Tree
Sorting Colors
Missing Numbers
Missing Letters
Match the Font
Garden Page
Sorting Animals
Sequencing
House Page
Beginning Letters
Shadow Matching (activity pack exclusive!)
Glue on the Pictures (activity pack exclusive!)
Go to the store to purchase a shape activity pack now. Be sure to check out our other activity packs. They're only $1.99! And don't forget to subscribe for toddler and preschool ideas that come straight to your inbox.
Other Posts You Might Like: