How do I teach preschool patterns to my child?
I've had a fun time coming up with preschool pattern activities, but with Valentine's Day tomorrow, I really wanted to do something themed. Of course, you can just as easily do this activity with a St. Patrick's Day theme or a Spring theme; just use different stickers.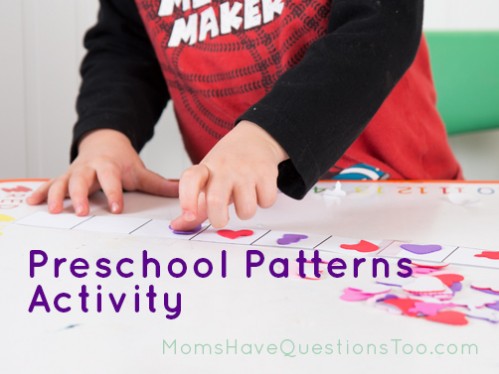 To do this fun pattern activity, start by printing off these pattern strips that I made. After I cut out the pattern strips, I also taped two strips together to make one extra long strip. You could obviously just leave the strips short instead of long, but I thought the long ones were just more fun. Next, you just make a pattern on the pattern strips using seasonal stickers.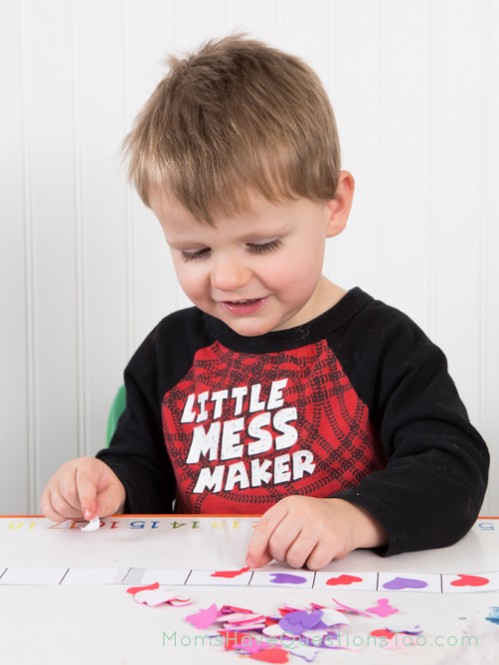 When Smiley Man did this activity, we simply did a color pattern (red, purple, red, purple, etc.). You can see that the sticker shapes are not all the same. This was a great way to introduce patterns to Smiley Man. I am just beginning to teach him patterns and the concept is still very difficult for him. I don't think he noticed the shape of the stickers at all, but he did understand that he needed a red sticker and then a purple sticker.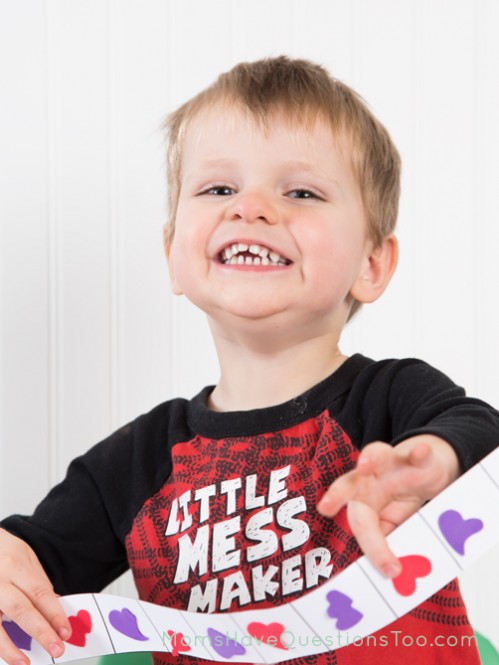 I got these heart stickers last year from the dollar store and I'm pretty sure they still have them there. So, if you are looking for a last minute Valentine's Day activity, pick up some heart stickers and make some patterns. You could also use seasonal candy (like conversation hearts). If you want something more 3D, but not candy, try using red and pink plastic hearts (like these, but they have them at the dollar store).
Here are some other, less Valentine-y, items you could use for this pattern activity:
Be sure to check out our other preschool patterns posts:
*Want to see more themed activities like this for toddlers or preschoolers? Check out our store page where our toddler and preschool series are compiled into Activity Packs for only $1.99! The Activity Packs are full of lesson plans, printables, and a curriculum guide.
[hr top]
We've found some fun people with great linky parties. You might just see this post linked up on one of these amazing sites!
No Time for Flashcards, Train Up a Child, Teach Beside Me, 1+1+1=1, Living Montessori Now, In Lieu of Preschool, ABC & 123, Sun Scholars, All Our Days, Frogs and Snails and Puppy Dog Tails, Homeschool Creations, 123 Homeschool 4 Me, Teaching Mama.