What are some organization ideas for all of my school supplies, tot trays, desk and chairs, etc?
Back in September my family moved to a beautiful new home and we now (finally) have a separate school room. It has been so wonderful to have a separate room for all of our tot trays, school supplies, some toys, etc. Not everyone can have a separate space for learning, so I have made sure to not take advantage of it and to enjoy every moment. :)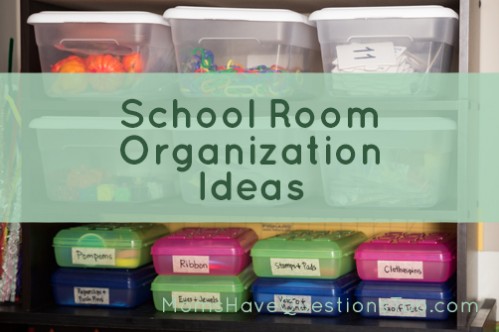 I thought it might be nice for some people to see how I have things organized in our school room to perhaps give them organization ideas. This post is a little long, so feel free to just look at the pictures and read the words if you want a more specific idea of what is shown.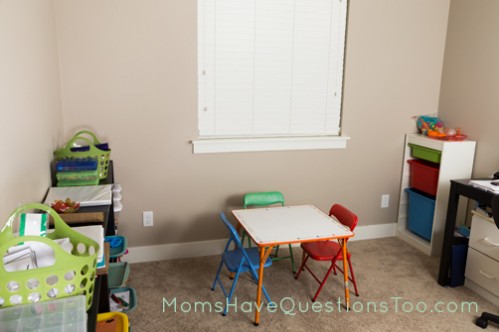 When you first walk in the door, we have three black bookshelves along the wall. I bought these at Walmart for $15 and they have been great. The first bookshelf has 6 tot trays on the shelves. The very top has all of Little Bear's things. There is a basket with all of the things he needs for his sight word curriculum. I created Little Bear's sight word curriculum and you can buy it in our store. His notebook with his current sight word activities is also on top. There is also his atlas, writing practice workbook, addition workbook, and his homemade moveable alphabet. On the edge of the bookshelf is a hook holding his backpack. Little Bear goes to Kindergarten at a public school, so he doesn't have many things on the bookshelf, but I still do quite a few things with him when he comes home from school, so he still has some space.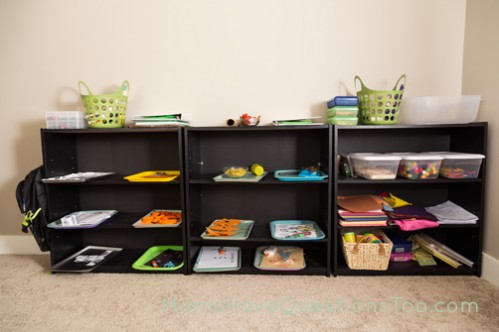 The second bookshelf also has 6 tot trays on the shelves. I usually just have one set of tot trays out for Smiley Man, but I often have two sets out, so it's nice to have a place for all 12 tot trays to be out at once. I only sometimes have two sets out because Cassidy, the amazing photographer for this blog, does not live in our house, so sometimes when I do the activities with Smiley Man and when Cassidy takes pictures of them are not always at the same time. Never fear, I only allow Smiley Man to work on the trays that he is supposed to do that week and that's what I write about. ;) The top of the second bookshelf has Smiley Man's learning notebook and occasionally some seasonal activities.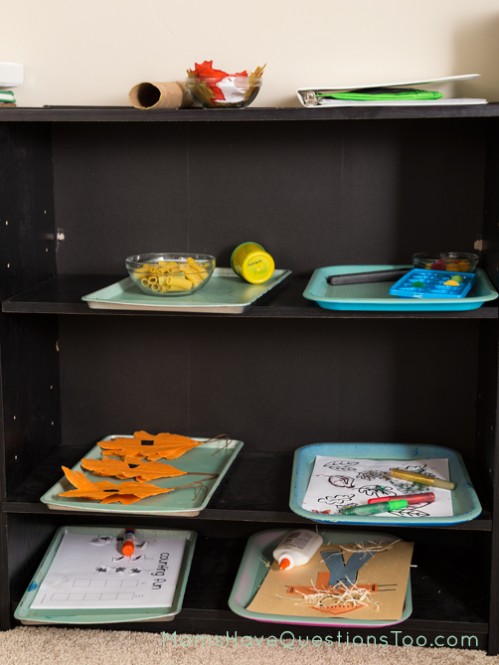 The third bookshelf has some pencil boxes with crayons, a basket with frequently used materials (glue, stickers, homemade mod podge, scissors, etc.), and our sensory bin. So far we haven't used the sensory bin since we've moved, but I plan to use it a lot with the toddler curriculum I am creating and that we'll be starting in January.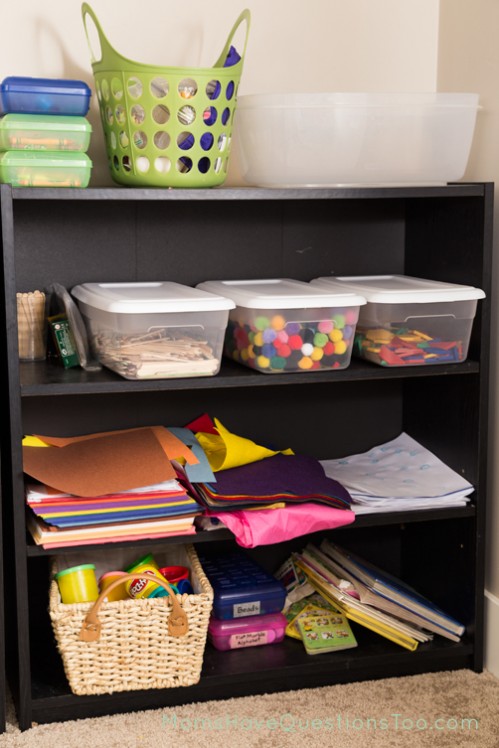 The third bookshelf also has some shoeboxes with various materials (I actually rotate these and the rest are in the closet), construction paper, tissue paper, felt, and scrap paper on the next shelf, and playdough, frequently used supplies (beads, flat marble alphabet, paint, etc.), and some books on the bottom shelf.
Under the window is our table and chairs. I bought these for really cheap and they are definitely starting to wear. If anyone knows of a great place to buy a table and chairs set for less than a fortune, please let me know!
In the corner is an IKEA toy storage that has some toys. We have a ton of toys and I rotate them so that there are only a few in the room at a time. On the top of the shelf is some playdough, playdough tools, and such. Hopefully I'll write more about this in January.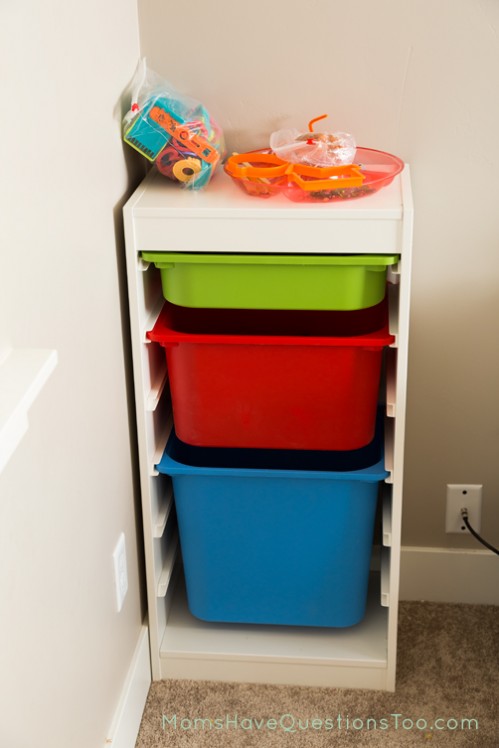 Against the other wall is my desk area. The space that I need has grown considerably since starting a blog, so it's nice to actually have a place for everything. I'm still not finished organizing the whole area yet, so don't judge me about how cluttered it is now. ;)
In the closet is all the storage. As an Elementary education major and a preschool teacher, I have accumulated quite a supply of things over the years. The very top shelf in the closet has non-preschool items like scrapbooking scissors, my jewelry making supplies, my sewing machine and such. On the door is a shoe hanger filled with my yarn stash (I am a knitter, so if you are too and need Christmas gift ideas, check out my Christmas knitting post from last year and my Christmas Knitting 2013 post.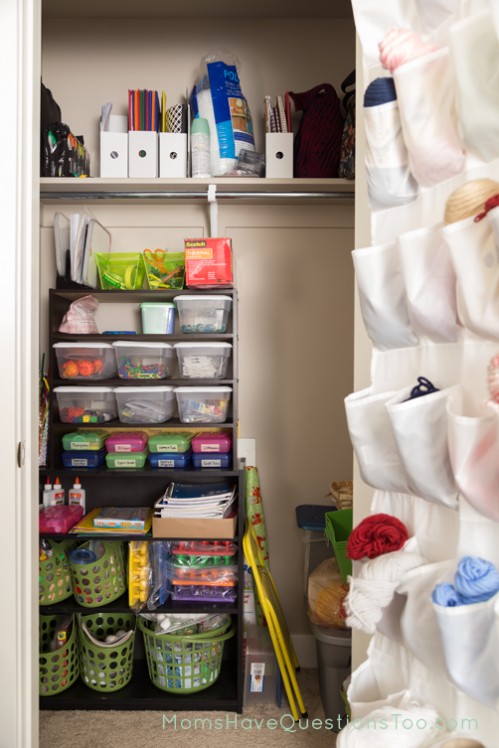 The closet also has another $15 walmart bookshelf with some shoe storage shelves on top. There are shoeboxes and pencil boxes filled with various supplies and items (glass gems, math links, math cubes, ribbon, stamps and pads, golf tees, Holiday related items, seasonal items, etc.) On the top is my laminator, which I love (check out my review here), extra scissors, tape, hot glue gun, pattern block mats, playdough mats, etc.
Under the shoe storage shelves, on the actual bookshelf there are extra supplies (glue, notebooks, etc.), pegboards, math and reading baskets with random supplies, and sensory materials on the bottom. There are also a bunch of other random things in the closet like Little Bear's school file, my new paper cutter, busy bags, etc.
Whew, that post was long. Hopefully you can get some organizing ideas from this post. So far, everything has worked great the way it is organized now. I'm thinking of doing a post with more specific information about the supplies I have and use regularly. Please let me know if a post like that would be helpful to you. I really don't want to bombard everyone with posts about my stuff unless you actually want to know what things I use frequently and why.
[hr top]
We've found some fun people with great linky parties. You might just see this post linked up on one of these amazing sites!
No Time for Flashcards, Train Up a Child, Teach Beside Me, 1+1+1=1, Living Montessori Now, In Lieu of Preschool, ABC & 123, Sun Scholars, All Our Days, Frogs and Snails and Puppy Dog Tails, Homeschool Creations, 123 Homeschool 4 Me, Teaching Mama.